ISO TC37 to Create a Standard UML Profile for Terminology
Summary: At its recent 2010 Plenary meeting in Dublin, ISO TC37 ("Terminology and other Language and Content Resources") approved an important resolution. This month, our Standards Reporter, Donald Chapin highlights the major points of that resolution and also describes some new work (joint between ISO and the OMG) that is to begin early in 2011. [ read more ]
At its recent 2010 Plenary meeting in Dublin, ISO TC37 ("Terminology and other Language and Content Resources") approved a resolution for ISO TC37 / SC1 / WG5 to:
review and update the present ISO technical report ISO/TR 24156 ("Guidelines for using UML notation in terminology work") based on the comments submitted at the meeting in Dublin;


harmonize it with Annex H "Use of UML Notation in a Business Context to Represent SBVR-Style Vocabularies" of the OMG's SBVR specification;


validate it against the latest UML specifications; and


convert it into an International Standard ISO 24156-1, Graphic notations for concept modeling in terminology work and its relationship with UML — Part 1: Guidelines for using UML and Mind Mapping notation in terminology work.
ISO/TR 24156 gives terminological meaning to UML symbols by mapping them to standard terminology science concepts defined in ISO 704, ISO 1087-1, ISO 1087-2, and ISO 12620. These are the same standards for which the LISA / ISO 30042 TBX ("Term Base Exchange") standard provides a validatable XML schema for exchanging terminologies based on those standards, which includes SBVR terminologies.
It is very important to note that ISO/TR 24156 does not, and ISO 24156-1 will not, map terminology standards concepts to UML metamodel construct semantics / meanings. This ISO technical report /future standard is limited entirely to using UML symbols to represent concept meanings in the above terminology standards. That is why the UML Profile approach is being used.
In addition, the resolution calls for a notation, that is most familiar to terminologists and most easily used by them, to be adopted (and enhanced where necessary) to complement the UML notation, which is more familiar to information technologists. The concept modeling notation most widely used in organizations that was discussed at the meeting in Dublin is the Mind Mapping notation.
A second resolution calls for work to begin in 2011 on two transformations:
from terminology concepts — as defined in the above standards and in SBVR Clauses 8, 9, 11, & 12 — to conceptual information modeling — as defined in ISO/TR 9007 ("Concepts and Terminology for the Conceptual Schema and the Information Base") and referenced in SBVR Clause 10, which provides the formal interpretation for SBVR; and


from conceptual information modeling — as defined in ISO/TR 9007 — to Class-of-Platform Independent transient and persistent data store structures, which are defined in the upcoming "Information Management Metamodel (IMM)" specification from the OMG.
This work will be published as ISO 24156-2, Graphic notations for concept modeling in terminology work and its relationship with UML — Part 2: Guidelines for transforming the content of terminology management systems into UML information models. It is intended to result from a collaboration between ISO TC37 / SC1 / WG5 and the OMG. The work is in very early stages, with only an outline focusing on the structure and purpose of the standard to be published by the end of April 2011. This provides time for review and discussion at the 2011 ISO TC37 Plenary in Seoul, Korea in June 2011.
# # #

Free How-To-Primers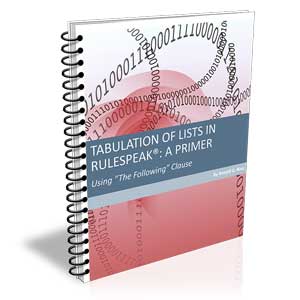 In The Spotlight
All About Concepts, Policies, Rules, Decisions & Requirements
We want to share some insights with you that will positively rock your world. They will absolutely change the way you think and go about your work. We would like to give you high-leverage opportunities to add value to your initiatives, and give you innovative new techniques for developing great business solutions.