Glossary of Business Rule Terminology
Summary: Annotated glossary of frequently used business rule terms. Excerpted with permission from Building Business Solutions: Business Analysis with Business Rules, by Ronald G. Ross with Gladys S.W. Lam.

Free How-To-Primers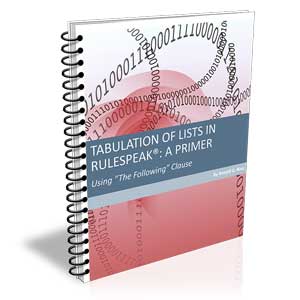 In The Spotlight
In response to a great many requests, Business Rule Solutions now offers at-a-distance learning options. No travel, no backlogs, no hassles. Same great instructors, but with schedules, content and pricing designed to meet the special needs of busy professionals.