Glossary of Business Rule Terminology
Summary: Annotated glossary of frequently used business rule terms. Excerpted with permission from Building Business Solutions: Business Analysis with Business Rules, by Ronald G. Ross with Gladys S.W. Lam.

Free White Papers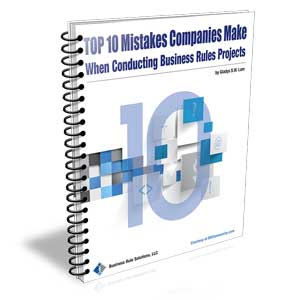 In The Spotlight
All About Concepts, Policies, Rules, Decisions & Requirements
We want to share some insights with you that will positively rock your world. They will absolutely change the way you think and go about your work. We would like to give you high-leverage opportunities to add value to your initiatives, and give you innovative new techniques for developing great business solutions.