The Business Motivation Model
Summary: The BRG's second publication — The Business Motivation Model: Business Governance in a Volatile World — has a business focus, which is characterized as reflecting Zachman 'Row 2'. Motivation tells 'why' an enterprise has the business rules that it has put in place to govern what it does with its products and services, its people, its locations, and its timing.
The Business Motivation Model
The Business Motivation Model (BMM) is a concept model/vocabulary of the concepts essential for business governance. Its focus is on why enterprises run their businesses the way that they do, and its underlying principle is "Businesses are driven, not by change, but by how they decide to react to change."
The BMM provides:
a vocabulary for understanding critical business motivation and governance issues, including such concepts as 'business policy', 'strategy', 'tactic', 'goal', 'influencer', and 'assessment', along with the verb concepts that relate them, such as 'business policy governs course of action'.
implicit support for an end-to-end process that runs:

from recognition that an influencer (regulation, competition, environment, etc.) has an impact on the business
to implementing the reaction to that impact in business rules, and organization responsibilities, and business processes.

the basis for logical design of a repository for storage of BMMs for individual businesses.
The BMM was first published by the Business Rules Group (BRG) in 2000, under the title "Organizing Business Plans: The Business Rules Motivation Model." That original paper was updated in 2005 with a new title, "The Business Motivation Model: Business Governance in a Volatile World." For more on the background of the history and evolution of the BMM, visit businessrulesgroup.org/bmm.php The BRG's Release 1.4 publication is available in PDF format.
The Business Motivation Model in the OMG
In September 2005, the OMG voted to accept the Business Motivation Model as the subject of a Request for Comment (RFC). This meant that the OMG was willing to consider the Business Motivation Model as a specification to be adopted by the OMG, subject to comment from any interested parties. Adoption as an OMG specification carries the intention that the Business Motivation Model would, in time, be submitted to the International Standards Organization (ISO) as a standard.
Version 1.1 of the OMG standard was published in May 2010. The evolution of the BMM Standard continues, under the Charter of the OMG's BMM Revision Task Force. The most current version of the OMG's published BMM work is available on the OMG website.
# # #

Publications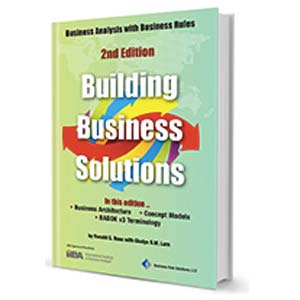 In The Spotlight
All About Concepts, Policies, Rules, Decisions & Requirements
We want to share some insights with you that will positively rock your world. They will absolutely change the way you think and go about your work. We would like to give you high-leverage opportunities to add value to your initiatives, and give you innovative new techniques for developing great business solutions.