Q11: General BRManifesto Questions & Answers
Summary: Questions 11-14: General BRManifesto FAQs Question: Why is the Business Rule Manifesto called a Manifesto? Question: What purpose do the names of the ten Articles serve? Question: Does the order in which the Manifesto list the various principles indicate or suggest anything about relative importance? Question: Does the Manifesto apply to non-profit organizations as well as for-profit businesses? Question: Is there significance in the use of "rule" rather than "business rule" in some principles of the Manifesto?
FAQ #11
Question: Why is the Business Rule Manifesto called a Manifesto?
Merriam-Webster Unabridged Dictionary defines "manifesto" as "a public declaration of intentions, motivations, or views: a public statement of policy or intention". That sense of "manifesto" exactly describes the purpose of its content.
References:
[1] The Manifesto is free, only 2 pages long, translated into 15 languages. Have a quick look (or re-look!). No sign up required. Well worth your time.

Free How-To-Primers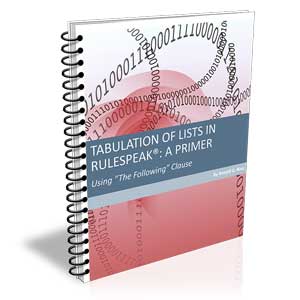 In The Spotlight
In response to a great many requests, Business Rule Solutions now offers at-a-distance learning options. No travel, no backlogs, no hassles. Same great instructors, but with schedules, content and pricing designed to meet the special needs of busy professionals.