BRManifesto FAQ: Article 3 - Deliberate Knowledge, Not A By-Product
Summary: BRM FAQ: Article 3 - Deliberate Knowledge, Not A By-Product
FAQ re: Principle 3.2
Question: What is the sense of "facts make assertions" in Manifesto principle 3.2?
Terms express business concepts; facts make assertions about these concepts; rules constrain and support these facts.
The intended sense is "indicate things that are taken as true".
References:
[1] The Manifesto is free, only 2 pages long, translated into 15 languages. Have a quick look (or re-look!). No sign up required. Well worth your time.

Free How-To-Primers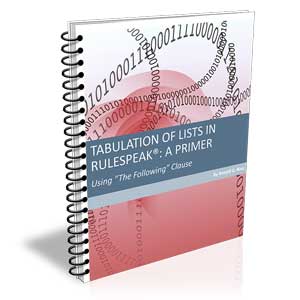 In The Spotlight
In response to a great many requests, Business Rule Solutions now offers at-a-distance learning options. No travel, no backlogs, no hassles. Same great instructors, but with schedules, content and pricing designed to meet the special needs of busy professionals.