BRManifesto FAQ: Article 5 - Well-Formed Expression, Not Ad Hoc
Summary: BRM FAQ: Article 5 - Well-Formed Expression, Not Ad Hoc
FAQ re: Principle 5.2
Question: Does 'consistency' in Manifesto principle 5.2 simply mean 'no contradictions'?
Business rules should be expressed in such a way that they can be verified against each other for consistency.
The goal is to detect any kind of anomaly within sets of rules - e.g., subsumptions, equivalences (producing redundancies), near identicals (for further inspection), etc.
References:
[1] The Manifesto is free, only 2 pages long, translated into 15 languages. Have a quick look (or re-look!). No sign up required. Well worth your time.

Free How-To-Primers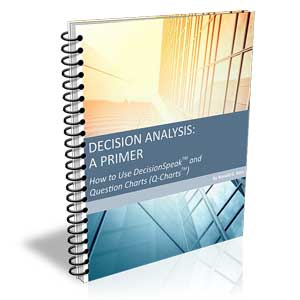 In The Spotlight
In response to a great many requests, Business Rule Solutions now offers at-a-distance learning options. No travel, no backlogs, no hassles. Same great instructors, but with schedules, content and pricing designed to meet the special needs of busy professionals.