BRManifesto FAQ: Article 5 - Well-Formed Expression, Not Ad Hoc
Summary: BRM FAQ: Article 5 - Well-Formed Expression, Not Ad Hoc
FAQ re: Principle 5.2
Question: Does 'consistency' in Manifesto principle 5.2 simply mean 'no contradictions'?
Business rules should be expressed in such a way that they can be verified against each other for consistency.
The goal is to detect any kind of anomaly within sets of rules - e.g., subsumptions, equivalences (producing redundancies), near identicals (for further inspection), etc.
References:
[1] The Manifesto is free, only 2 pages long, translated into 15 languages. Have a quick look (or re-look!). No sign up required. Well worth your time.

Free How-To-Primers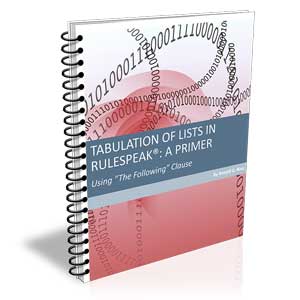 In The Spotlight
All About Concepts, Policies, Rules, Decisions & Requirements
We want to share some insights with you that will positively rock your world. They will absolutely change the way you think and go about your work. We would like to give you high-leverage opportunities to add value to your initiatives, and give you innovative new techniques for developing great business solutions.