Q12: General BRManifesto Questions & Answers
Summary: Q12: General BRManifesto Questions & Answers
FAQ #12
Question: What purpose do the names of the ten Articles serve?
The name of an Article summarizes or clarifies the collective meaning or intent of the principles grouped underneath it. Note that the name of each Article follows a "this, not that" format, which intentionally serves to clarify what business rules are, and are not.
References:
[1] The Manifesto is free, only 2 pages long, translated into 15 languages. Have a quick look (or re-look!). No sign up required. Well worth your time.

Free How-To-Primers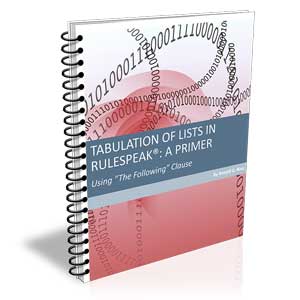 In The Spotlight
In response to a great many requests, Business Rule Solutions now offers at-a-distance learning options. No travel, no backlogs, no hassles. Same great instructors, but with schedules, content and pricing designed to meet the special needs of busy professionals.