Q13: General BRManifesto Questions & Answers
Summary: Q13: General BRManifesto Questions & Answers
FAQ #13
Question: Does the order in which the Manifesto list the various principles indicate or suggest anything about relative importance?
No. Generally, however, more basic principles appear first.
FAQ #14
Question: Does the Manifesto apply to non-profit organizations as well as for-profit businesses?
Yes. Business rules appear in any kind of body chartered with authority to command some degree of obedience, including non-profits and government bodies.
FAQ #15
Question: Is there significance in the use of "rule" rather than "business rule" in some principles of the Manifesto?
No. As the name indicates, the Business Rule Manifesto is all about business rules.
References:
[1] The Manifesto is free, only 2 pages long, translated into 15 languages. Have a quick look (or re-look!). No sign up required. Well worth your time.

Free How-To-Primers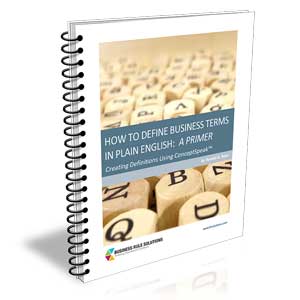 In The Spotlight
In response to a great many requests, Business Rule Solutions now offers at-a-distance learning options. No travel, no backlogs, no hassles. Same great instructors, but with schedules, content and pricing designed to meet the special needs of busy professionals.