Why I Like the Zachman Framework Architecture
Summary: Why I Like the Zachman Framework Architecture
The true measure of an idea's elegance lies in its simplicity.  By this test, the Zachman Framework Architecture is a masterpiece.  Curiously, each proponent seems to conceive his own particular set of reasons for liking it.  Not to detract from others, here are mine.  They read like a litany for IRM.
Because architecture is important.  Significant investment in constructing anything of substantial complexity or duration is made most wisely following a prior blueprint.  We know this to be true for skyscrapers, microchips, space shuttles, and home remodeling; the Framework supports it for information systems.


Because perspective is important.  "Perspective" is a term sometimes used for a row in the Framework.  Clearly, the perspective relevant to the user is not the same as the perspective relevant to the designer, which is not the same as the perspective relevant to the builder, etc.  This is a simple insight, but sterling nonetheless.


Because communication is important.  The columns of the Framework mandate the questions:  what, how, where, who, when, and why.  This guidance is both clear and complete.  Perspectives (as above), plus what questions to ask, equals matrix for communication.


Because data is important.  Putting the question "what" (data) on an equal footing with "how" (process) runs counter to those basic habits of the industry that IRM professionals constantly battle.  The Framework stands out for that simple, yet courageous act.


Because integration is important.  The essence of integration is unifying facts.  This is as true for systems of methodologies (meta-systems) as it is for systems of regular business information.  Think of the Framework as a comprehensive guide to unification (integration) of meta-facts.  This is subtle -- but elegance usually is.


Because innovation is important.  The Framework is not complete, especially the three new columns.  But it permits us to grasp where completeness lies, and how to judge when we've achieved it.  For me, this methodological bootstrapping is a final stroke of brilliance.
# # #

Free How-To-Primers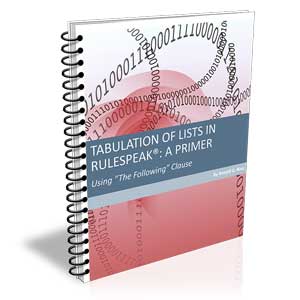 In The Spotlight
All About Concepts, Policies, Rules, Decisions & Requirements
We want to share some insights with you that will positively rock your world. They will absolutely change the way you think and go about your work. We would like to give you high-leverage opportunities to add value to your initiatives, and give you innovative new techniques for developing great business solutions.