Business Rule Re-Engineering
Summary: Business Rule Re-Engineering
An exciting new idea is emerging in the industry.   I am not sure whether the idea has its roots in Business Process Re-Engineering (BPR), or in traditional database circles.   More likely, its origin lies at the intersection of the two -- with that small, but potent, new group of professionals now focused on business rules.   I discussed the idea most recently with Wanda Michaels of Kogawa Consulting.
The idea is based on the observation that the dollar-and-cents savings that result from successful BPR projects usually have more to do with rethinking business rules, than with re-doing workflow (i.e., business "process") per se.  Actually, this should not come as a surprise.  Since business rules are more basic to the company than workflow or business "process," the leverage they offer naturally should be greater.
Let me offer an example.  A large retail concern had an existing business rule that all its products should be priced a least one cent less than the competition's.  To support this rule, it ran continuous checks on competitors' product pricing.  This resulted in frequent adjustments, and a never-ending cycle of re-tagging items in stock -- a time-consuming, expensive, and very cumbersome process.
Initially, the company sought to re-engineer the associated workflow.  However, this produced no more than incremental improvements.  Then the company decided to rethink the pricing rule itself.
The company had assumed that it would lose customers on as small as a one-cent price differential.  After some discussion, this assumption was proven wrong.  As a result, the price differential was raised to a higher level.  This decision, in and of itself, reduced the workflow load to a more tolerable level.  (To allow for fast-paced adjustment in the future, they also subsequently established the price differential as an easily-changed parameter for their IS environment.)
I am virtually certain that many, if not most, successful BPR projects tell a similar story.  The obvious question is why not simply do Business Rule Re-Engineering?  This is an idea whose time I believe has come.
In proposing this, let me be clear that I believe workflow still has a role to play.  Stepping through as-is and to-be procedures (or business "processes") with users, if done correctly, remains one of the best techniques to identify and analyze business rules with re-engineering potential.
The difference with Business Rule Re-Engineering is really one of emphasis -- putting business rules at the center of things, rather than on the periphery.  But such "adjustments" often have a way of producing thundering revolutions.  Just think what Copernicus managed by putting the sun at the center of things, rather than leaving it on the periphery.
# # #

Free How-To-Primers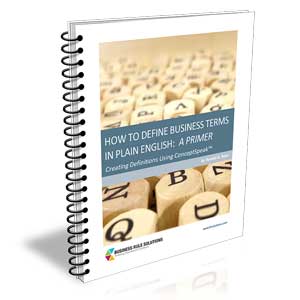 In The Spotlight
All About Concepts, Policies, Rules, Decisions & Requirements
We want to share some insights with you that will positively rock your world. They will absolutely change the way you think and go about your work. We would like to give you high-leverage opportunities to add value to your initiatives, and give you innovative new techniques for developing great business solutions.