THE FIN DE SIEGLE LEGACY MINDSET
Summary: THE FIN DE SIEGLE LEGACY MINDSET
A consultant recently told me about an incident at his client's. I'm sure it's one repeated around the world many times every day.
A group of developers were developing a new web-based application to support bread-and-butter interaction with customers. They were very into the coding. The consultant recommended that they write down the business rules they were implementing. Their puzzled response was "Why?". After a minute or two of dead silence, one of the developers cautiously added, "We can always just go back and ask the business users again if we need to."
Can you always just go back and ask the business people for the business rules again? Well, actually yes - at least once or twice usually. But in my experience, their enthusiasm and confidence level in you are going to fall off rapidly after that. Why shouldn't it? You obviously just don't seem to be "getting" it. (And that will be true even if they're not really "giving" it very well, which happens pretty often too.) There's such a simple solution - all you have to do is write 'em down as you go.
Now remember, this was a web-based application. As the consultant went on to point out to them, the goal was to dis-intermediate - in other words, to remove the middlemen. In this case that meant the company representatives who had been supporting the customers up until now. Once those representatives are gone from the scene, then who will you go back to with questions about the business rules?
This drew more blank stares from the developers. Their job was to develop, to code, to build, to get it running - not to worry about what might happen years from now. The consultant pointed out that changes in business rules is no longer a matter of years these days, but of weeks, days or even hours. More blank stares.
The consultant and I chuckled over this (more like amused groans). Here were developers who could conceive of complete business transactions with customers worldwide in a matter of seconds, truly revolutionizing commerce. Yet these same very creative people were unable to grasp that the rules of this game would almost certainly change within a matter of months, if not weeks or days - and that you need to do something about that too.
I guess the bottom line - I'll leave you with this thought for Y2K - is this. You can shrink the legacy mindset, but you may never be able to get rid of it completely.
© 1999, Ronald G. Ross.

Free How-To-Primers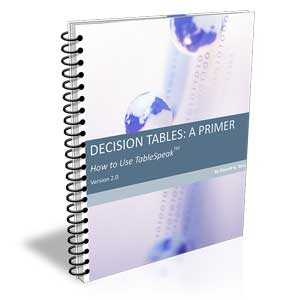 In The Spotlight
All About Concepts, Policies, Rules, Decisions & Requirements
We want to share some insights with you that will positively rock your world. They will absolutely change the way you think and go about your work. We would like to give you high-leverage opportunities to add value to your initiatives, and give you innovative new techniques for developing great business solutions.