The Next Great Leap Forward ~ About the Changes You See
Summary: The Next Great Leap Forward ~ About the Changes You See
This column originally appeared in the May/Jun. 1998 issue of the DataToKnowledge Newsletter.
In case you haven't noticed, things have changed ... a lot!  Changed in IT, and changed in the business world around us.  And I think they are about to change even more.  So the Newsletter is changing too, to help you stay out in front, and on top.
When the Newsletter was founded in 1973 (yes, a quarter of a century ago!), 'data base' was a completely foreign idea, a special term understood by only an elite priesthood of techies, (and a few very visionary entrepreneurs).  I can really speak only since 1978, when I became editor, but I do know that 'data base' did not really become 'database' until almost a decade later.  Now, standing on the verge of the next millennium, I hear my oldest son (about the same age as  'database') using it casually with his friends.  Yes, things have changed!
Let me tell about another way things are changing.  The other day, my kids' computer broke.  Fried.  Kaput.  Four years ago, it was state of the art.  Now they tell me it's not worth fixing -- I should get a new one.  But here was the real insight.  My consultant said that his buying strategy has completely changed in the last few years.  Now, he says, "Buy cheap, and plan on junking it in a couple of years.  It's the bits that live on."  It's the bits that live on.
That brought to mind an old piece of wisdom pertaining to the changes I see.  Here it is, amended (by me) for the information age.  I think it says exactly what the turn-of-the-millennium business is all about.
Without bits there can be no data.
Without data there can be no information.
Without information there can be no knowledge.
Without knowledge there can be no strategy.
Think of 'database' as a means of organizing the bits.  Although I foresee huge innovations in the technology yet to come, I think it's safe to say the 'bit' part is now a given.  It's been really fun watching it happen over the last quarter century, through all the zigs and zags, but as anybody with a modem knows, the real excitement has barely begun.  You can let the techies do the bits -- but when you start from the data, that affects everyone.
Put simply, to play the game today, a business must seek better ways to manage what it knows, so it can rapidly change what it knows.  What ingredients do you need for that?  Here are the essentials:  data, information, business rules, enterprise architecture, and knowledge management.  Maybe, just maybe, if the business gets really good at these things, it will not only be able to play the game but find a winning strategy as well.
To find that winning strategy, you will need to know about everything from data to knowledge.  The 'new' Data-to-Knowledge Newsletter will be in the thick of that, a change agent -- and a friendly source of the 'goods' to guide you in this next great leap forward.
# # #

Free White Papers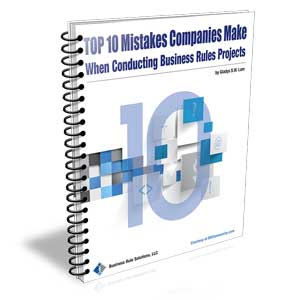 In The Spotlight
All About Concepts, Policies, Rules, Decisions & Requirements
We want to share some insights with you that will positively rock your world. They will absolutely change the way you think and go about your work. We would like to give you high-leverage opportunities to add value to your initiatives, and give you innovative new techniques for developing great business solutions.