Managing M x N Vs. M + N, Market-Driven Economies, and Other eCommerce Issues (Part 2)
Part 1 of this two-part series discussed how scalability in web content management can be achieved by introducing a universal content repository to keep the total number of bridges and interfaces to manageable levels. Part 2 discusses how the business rule approach can be used to establish an effective environment for highly dynamic web content management.
---
Does the business rule approach support the challenges of organizing a highly dynamic environment for web content management?   The answer is a resounding yes.   Our experience in recent projects suggests not only that it supports them quite well -- but that there may not even be any viable alternative.   There are many ways in which this is true, but let me single out just three that seem especially important.
1. Developing the Vocabulary.   The web environment brings to the business many new concepts, and in many cases, strange new terms to go along with them (e.g., "extranets," "eMarketplaces," "eMarketMakers," "affinity sites," "commerce engines," etc.).   The strong emphasis of the business rule approach on business-driven concept definition and fact modeling is just the thing to make sense of the muddle -- and to do it before the coding starts.
2. Building for Change.   In several projects we have been involved with, the 'applications' have to do with highly tailored eCatalogs that target individual eChannels.   Often, these eCatalogs are specific to individual customers and/or promotion efforts.   The number of possible variations in composition, pricing, frequency of distribution, etc. -- not to mention all the exceptions and restrictions (legal and otherwise) on them -- is staggering.   Furthermore, these variations must be adjustable in close to real time to keep pace with ever-changing business factors.   In the eCommerce arena, any architecture that cannot support such real-time adaptability is a non-starter.   What is the optimal approach for making an ever-changing array of selection options assessable and relatively easy to change?   This is precisely the area where rules and rule engines excel.
3. Harnessing Marketplace Forces.   Although a rule-based approach is essential for dynamic content management, it is not in and of itself sufficient.   With so many rules, and such rapid change in them, it is almost inconceivable that they can be managed effectively by a central group, no matter how highly qualified that group might be.
Having a central group manage all the rules mimics the top-down control practices of command economies (e.g., communism).   That approach is inherently flawed at real-world levels of complexity. In macroeconomics, the solution is open marketplaces in which thousands (or hundreds of thousands) of individual consumer choices constantly fine-tune the balance between supply and demand.
An equivalent approach must be adopted for the rules governing use of the universal content repository -- that is, covering all the choices to be made about content selection, organization, and delivery frequency for the eCatalogs.   These rules must be pushed out to all the individual consumers of the content -- that is, to all the individual business users responsible for the particular eChannels.
The term we use in the business rule approach for business-side, rule-based specification of any kind of service agreement is eDeal.   The particular manifestation of eDeals appropriate for web content management is eSubscription.   Each eSubscription establishes the parameters of a finely-tuned pipeline (i.e., eCatalog) of content for a particular highly-focused eCommerce channel.   The eSubscription is set up by the business staff closest to that particular business activity -- the ones in the best position to determine the optimal tactics and tradeoffs for the particular case.
What about the central group responsible for managing the universal content repository under this approach?   To facilitate specifying eSubscriptions, this group would probably define generalized rule templates that reduce much of the business user activity to point-and-click selection of appropriate parameters.   The most important thing to remember about the central group, however, is that it acts as neither creator (supplier) nor consumer of content.   Instead, it supports the inner workings of the content 'marketplace.'   In much the same manner as the support staff for stock or commodity exchanges, the group's basic role is as enabler of intra-business content exchange and as enforcer for the basic corporate rules of fair trade.
# # #

Free How-To-Primers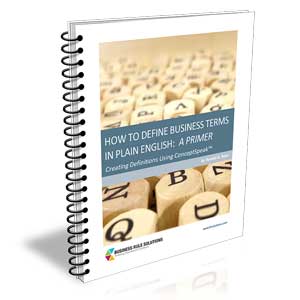 In The Spotlight
All About Concepts, Policies, Rules, Decisions & Requirements
We want to share some insights with you that will positively rock your world. They will absolutely change the way you think and go about your work. We would like to give you high-leverage opportunities to add value to your initiatives, and give you innovative new techniques for developing great business solutions.