A Telltale E-mail Trail: The Case for In-Line Business Rule Analysis
The following brief series of e-mails is tragically typical of detrimental 'holes' in day-to-day tactical business decisions so frequently discovered only after it is too late to do much about them.   The relevant issues here are clearly about business rules.   The exchange is a real one, altered only to disguise the true identities of those involved.
I also offer this e-mail exchange as anecdotal evidence of the need for in-line business rule analysis.   In particular, we recommend running what we call "what if" business rule scenarios as part of making important tactical business decisions.   I think you will find the exchange speaks for itself in this regard.
Here are the parties involved in the exchange:
Tracy: Accounting Staff
Ken: Product Manager
Glenda: Sales Manager
---
At 8:52 AM July 8, Ken wrote:
 
 
 
 
 
 
 
 
 
 

Tracy,

Yesterday we received the 2nd Qtr Sales Report and Income Statement. You listed the revenue from our 6/5 sale to GenTech as $14.358.00. How was this amount determined?

I know GenTech attended our annual conference, and since they initially saw the product there, they got the special 20% conference discount. Since they purchased two copies, shouldn't the total be $15,587.00 ($9,592 for the first copy under the special 20% discount, and $5,995 for the second copy)?

Ken

 
 
 
 
 

At 10:32 AM July 8, Tracy wrote:
 
 
 
 
 
 
 
 
 
 

Ken,

Since GenTech attended the conference, we extended them the special 20% conference discount on both copies. So the total was $14,358.00 ($9,592 for the first copy under the special 20% discount, and $4,796 for the second copy under the special 20% discount). Hope you don't have a problem with this(?).

Tracy

 
 
 
 
 
At 03:25 PM July 8, Ken wrote:
 
 
 
 
 
 
 
 
 
 

Tracy,

My understanding was that only the first copy of any sale was to be offered at the special conference discount. Subsequent copies are already being deeply discounted a full 50%!!

Unfortunately, this is now water under the bridge as far as these first two copies for GenTech goes. However, they have already committed to buying another 8 or 9 copies. THERE IS TO BE NO FURTHER DISCOUNT ON THESE COPIES. Have you received their new purchase order yet? Unfortunately, they are probably under the impression that they will get the conference discount on these additional copies too. I'll have to touch base with Glenda so she can straighten all this out with them.

We need to get our act together before closing more new sales. What is the specific intent of offering a discount to conference attendees? It gets a little nebulous when we say, "conference attendees receive a discount." Does the discount extend to any organization/person the attendee is associated with? Does the purchase need to be made on the spot to qualify? Does the discount have an expiration date? Are the discounted purchases limited to one per person?

These are just a few of the questions that come to mind. If some rules aren't established this is going to bite us again. GenTech ordered more than 3 months after the conference. Since they are buying a relatively expensive product, it isn't reasonable to expect them to purchase it on the spot. Having said that, there should be an EXPIRATION DATE for the conference discount. I would suggest 30 to 60 days after the conference. And, in the future we should make it clear the discount applies only to the first copy, not to subsequent copies.

Let's establish some good guidelines so we are all on the same page. We want to avoid any future misunderstandings and maintain good will with our customers.

Ken

 
 
 
 
 

At 5:15 PM July 8, Glenda wrote:
 
 
 
 
 
 
 
 
 
 

Ken,

I've been going back and forth with GenTech over this for a good while, but after making a few other concessions, I think the fires are out on this one for now.

I agree fully with your concerns. Next time we offer something like this, let's spend a few minutes to think it through first. Shouldn't take all that long -- you came up with a great list of questions to consider. I'm sure that would take a lot less time than all this has!

Glenda

 
 
 
 
 
# # #

Free How-To-Primers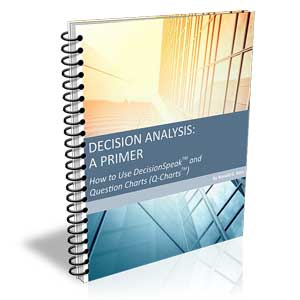 In The Spotlight
All About Concepts, Policies, Rules, Decisions & Requirements
We want to share some insights with you that will positively rock your world. They will absolutely change the way you think and go about your work. We would like to give you high-leverage opportunities to add value to your initiatives, and give you innovative new techniques for developing great business solutions.