Frameworks, Reference Models, and Matrices

A Framework is a schema ... a classification scheme ... it defines a set of categories into which various things can be sorted.  It is a mechanism for simplification.  For example, my Framework defines a set of categories for models, primitive models that are relevant for describing a complex object like an Enterprise.  A Reference Model, on the other hand, is a model, by definition, an instance of some specific kind of model.
Because models are applications of classification theory, models are technically classifications but they tend to be relevant to a specific situation.  A reference model tends to be an 'industry-standard,' generic representation for some specific industry.  Reference models tend to be at a fairly high level of detail to accommodate all the models of their type for Enterprises within the industry.
The reference models that I have run across tend to be composite models (because that is where we have been for the last 50 years), with either a strong process orientation or a strong technology orientation.  The reference model is an instance of a model, not a classification of models.  It is conceivable that you could have a (primitive) reference model for every Cell of my Framework for every industry.
A Matrix is an intersection between two independent variables.  A matrix could depict the relationship between two of any kind of independent variables.  Some people would call a matrix a 'model,' just a some people would call a list a 'model.'  (A matrix is just the relationship between two lists.)
I would say the intent of a matrix is to depict relationships, not classifications.  For example, you could express a relationship between a Process (Row 1, Column 2) and a Thing (Row 1, Column 1), or between a Thing (Row 1, Column 1) and a Location (Row 1, Column 3), and so forth.
# # #

Free How-To-Primers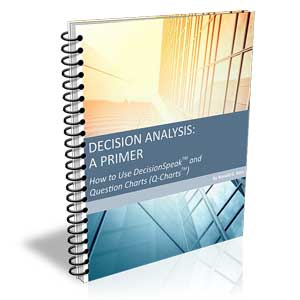 In The Spotlight
All About Concepts, Policies, Rules, Decisions & Requirements
We want to share some insights with you that will positively rock your world. They will absolutely change the way you think and go about your work. We would like to give you high-leverage opportunities to add value to your initiatives, and give you innovative new techniques for developing great business solutions.