The Dirty Secrets About Your Company's Business IP That Nobody Wants to Talk About
Summary: A company's intellectual property (IP) is its very lifeblood, yet many seem clueless about how to manage that IP as a business proposition. This dangerous reality often becomes apparent only when the business comes face-to-face with the inevitable (and usually urgent) need to re-platform. In this month's column, Ron Ross reveals the dirty secrets about re-platforming business IP that every manager should know.
Dirty Secret #1.  If your company uses an external service provider or COTS package to run core business processes, your intellectual property (IP) is essentially hostage.  Should you need to re-platform and/or move to the next generation of business functionality (maybe because the competition is eating your lunch, for example), you are likely to find yourself in dire straights.  Get at the IP quickly?  Don't kid yourself.  Thinking you can recapture complex business IP in a form that can be understood, reinvigorated, and repurposed in less than 2-3 months of intense work is a pipedream.  And that's before actual design and implementation under the new platform.
Dirty Secret #2.  Do you think that IT really knows how to undertake an IP recapture and re-engineering project with effective business-side involvement?  Don't kid yourself there either.  The prevalent IT methodology features use cases.  With respect to business IP, that's like bloodletting to heal disease.  Its main benefit is simply appearing to be very busy doing something.
Dirty Secret #3.  Will the 'next big thing' in IT provide an easy solution?  Not a chance.  You've probably been hearing a lot about the semantic web recently -- and all those really nifty things beyond XML.  Newsflash.  Cool things that permit the world to get at your stovepipe semantics quicker do nothing to eliminate the stovepipe semantics.  The world-wide web is one thing, but businesses depend on well-coordinated value chains.  In the everyday business world, closely-targeted value add is achieved by business workers seeing eye-to-eye and mind-to-mind about the meaning of core things and what rules apply to which things when.
Put simply, all is not rosy in IP land.  There is a lot of very painful experience out there.  The risks are mega, and so are the bucks.  If you throw 'transition planning' for mass babyboomer retirement into the mix, things get downright scary.  And a thousand use cases have yet to add up to a workable solution.
Fortunately, business rules do.  A focus on business vocabulary and rules offers scalable way to extract, understand, catalog, reevaluate, and reengineer business IP as a business proposition.  There's no secret to that -- just common sense and a measure of hard work.
# # #

Publications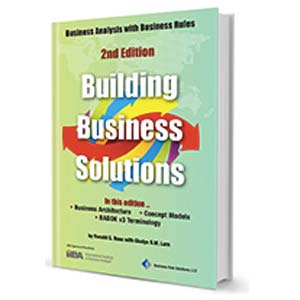 In The Spotlight
All About Concepts, Policies, Rules, Decisions & Requirements
We want to share some insights with you that will positively rock your world. They will absolutely change the way you think and go about your work. We would like to give you high-leverage opportunities to add value to your initiatives, and give you innovative new techniques for developing great business solutions.