Re-Vitalize, Don't Just Re-platform! ~ Three Tests for Whether Your Company 'Gets It' with Respect to Re-Platforming Business IP
Summary: Sooner or later your company will be faced with re-platforming its business intellectual property (IP). Maybe you are there now. Are you ready? Do you know how? Do you have what it takes to be successful? Following up on last month
If you missed last month's controversial catch line, I'll repeat it here:  A thousand use cases have yet to add up to a workable solution to the problem of wholesale re-platforming of business intellectual property (IP).  Using use cases as the primary vehicle for re-platforming business IP is like studying traffic at airport gates to understand airline operations.  Locally illuminating (maybe) -- but globally disastrous!
What are the "musts" for effective re-platforming of business IP?  First, recognize that your legacy IP is probably in no shape to re-platform as-is.  We strongly believe business IP needs to be revitalized as re-platformed.  Otherwise, you are simply doing a very risky and probably very costly 're-legacy' project.  Second, recognize that you need the right tools to capture and express your business IP -- and use cases aren't it!
Here are three quick additional tests to determine whether your company 'gets it' with respect to re-platforming complex business IP.
Definitions -- especially 'data definitions' -- are not enough.  Successful replatforming of large-scale business IP requires a structured business vocabulary -- i.e., a fact model.  A fact model shows how the entire set of core business concepts is configured in the form of business-language templates to provide a reliable 'knowledge map' to the business IP.  This 'knowledge map' is composed of highly-structured, highly re-usable, highly precise business terminology (nouns, verbs, and adjectives) providing for consistent expression of the IP in the form of rules (often very complex ones).
Error messages are not enough.  A business rule is its own error message.  It tells you what must go right -- and therefore what can go wrong -- from the business perspective.  The only need for additional 'messaging' is to outline remedial or corrective action, give examples, or provide additional narrative (again using the business terminology).  This 'integration' of business rule and error message is fundamental for effective engineering of large-scale business IP.
If-then statements are not enough.  If-then statements are pseudo-code, not business-speak.  The reason many rules seem so complicated is that they embed plentiful conditions.  Reading through a long list of conditions only later to get to subject, verb, and constraint can leave business people bewildered.  Rule statements need to be expressed in more natural English.  Conditions that appear in other rules need to be named and broken out.  Put simply, re-vitalizing business IP means returning it to a structured form of business English.
# # #

Free How-To-Primers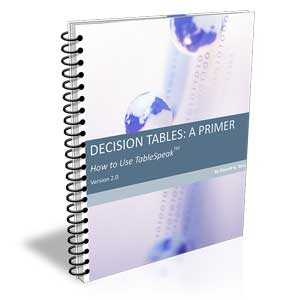 In The Spotlight
All About Concepts, Policies, Rules, Decisions & Requirements
We want to share some insights with you that will positively rock your world. They will absolutely change the way you think and go about your work. We would like to give you high-leverage opportunities to add value to your initiatives, and give you innovative new techniques for developing great business solutions.