Business Vocabulary: The Most Basic Requirement of All
Summary: Standard business vocabulary is a missing ingredient in most current approaches to IT requirements. This omission should of great concern to every business analyst. Indeed, business vocabulary is key to a whole range of fundamental business challenges, not just business rules. One reason is that, like business rules, business vocabulary lives on beyond the point of system implementation and deployment, Ron Ross explains in Part 1 of this three-part series.
Ask managers and workers in the business what they mean by requirements for developing software systems, and typically you get answers centered on features and functions, or on the look-and-feel of user interfaces. The answer "business vocabulary" (or "shared business vocabulary") is almost never among the responses. Nonetheless, a shared, well-structured business vocabulary is indeed a kind of requirement.
A shared, well-structured business vocabulary, of course, is by no means the only kind of requirement necessary for software development. Without such a vocabulary, however, you cannot provide real meaning or coherency (sense) to all the others, especially to the business rules. For that reason, a shared, well-structured business vocabulary represents a fundamental kind of requirement.
A shared, well-structured business vocabulary literally provides meaning (semantics). This meaning, of course, is abstract. It might not be as obvious as what a system does or how the system looks on the outside. Just because something is less obvious, however, does not mean it is any less important. Break a bone, and see what happens to the body's behavior. (I have, so I can speak with some authority!)
The problem is by no means limited to communication of requirements between business workers and IT. Indeed, in many organizations today, business workers from different parts of the organization often have trouble even talking to each other. Or to say this more accurately, they talk to each other, but they are not really communicating. They live in different semantic silos.
A well-managed, well-structured business vocabulary should be a central fixture of daily business activity. We believe it should be as accessible and as interactive as, say, spellcheck in Microsoft Word.
Developing and managing a shared, well-structured business vocabulary means capturing business knowledge from the business-side workers and managers who possess it (or adopting it from some outside source or community of practice). The skills involved with distilling that business knowledge are essential for business analysts. Every business analyst needs to know about fact modeling, the means to provide a robust blueprint for basic business vocabulary.
You also need appropriate business-level platforms to manage your business vocabulary. Such automated support is crucial to effective business communication, as well as to organizing large sets of business rules. You need special tooling for this purpose, which we call a
general rulebook system.
[1]
Part 2 of this three-part series examines fact types, a differential feature of fact models, and the means to add elemental verbs to your structured business vocabulary.
References
[1]  I talked about rulebook management in my September, 2009 column. See: http://www.BRCommunity.com/a2009/b500.html

# # #

Free How-To-Primers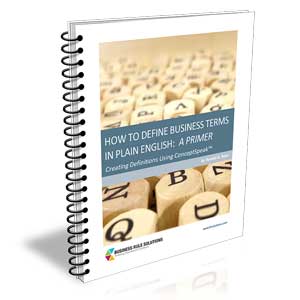 In The Spotlight
All About Concepts, Policies, Rules, Decisions & Requirements
We want to share some insights with you that will positively rock your world. They will absolutely change the way you think and go about your work. We would like to give you high-leverage opportunities to add value to your initiatives, and give you innovative new techniques for developing great business solutions.