Top 10 Mistakes Business Analysts Make When Capturing Rules - Mistake #2: Not Focusing on Terminology
Summary: Gladys Lam returns with a series on the "Top 10 Mistakes Business Analysts Make When Capturing Rules." In this month's column, she discusses Mistake #2: Not focusing on terminology. She gives humorous and relevant examples of why vocabulary is important. Gladys explains what it means to use consistent terminology in business rules and the consequences when you don't.
I just came home from the Business Rules Forum where I presented the "Top 10 Mistakes Business Analysts Make When Capturing Rules." The conference room was packed. I had attendees practically sitting on my toes. In fact, the session was so well received that I was asked to present again in the afternoon. Given the apparent demand for this kind of information, I'm pleased to continue my series with Mistake #2: Not Focusing on Terminology.
My daughter just got her driver's license. A New Driver in Vancouver, BC, has to drive with a logo 'N' displayed at the back of the car for 2 years. One of the rules for an 'N' driver is that she can only take one non-family member in the car. One afternoon, my 80-year-old mother asked for a ride home. I told her, "No problem; you have a granddaughter who can drive now." I sent my daughter. Unbeknownst to me, my mother had just finished having dim sum with her 3 friends, who also needed a ride. My daughter, being very protective of her newly-earned license, explained to my mother that she could only take one non-family member. My mother's immediate response was, "They are all family. Grandma Alice (it does not help that in Chinese tradition, everyone in your grandma's generation is called 'Grandma') is your mother's second cousin's mother-in-law; Grandma Josephine babysat you when you were little, and Grandma Laura is my best friend since high school." At this point, my daughter was almost in tears. She just could not explain to Grandma what 'family' meant. She called me to the rescue. I drove another car to chauffeur my mother and all her friends to their homes. All ended well. However, you can see how a rule is only as good as the understanding of the terminology used in the rule. According to my mother, everyone she knows is 'family'.
Concise and consistent understanding of business vocabulary is even more important in a business environment. Imprecise use of vocabulary can cause great frustration. I fly a lot. The airline where I am a Platinum Million Mile member lost my luggage. To compensate for their mistake they sent me the following Customer Care Certificate to be used on my next purchase:

When I went to use the Customer Care Certificate, this was the screen I was presented with. It gave me the options of 'Nothing to redeem', 'Redeem a gift certificate', or 'Redeem a travel certificate'.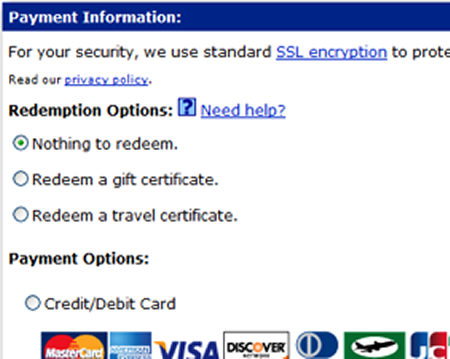 I looked at my certificate. It said 'Customer Care Certificate'. Now what do I do? They lost my luggage and they gave me this certificate. Does that mean this is a gift certificate? I clicked 'gift certificate'. I was presented with: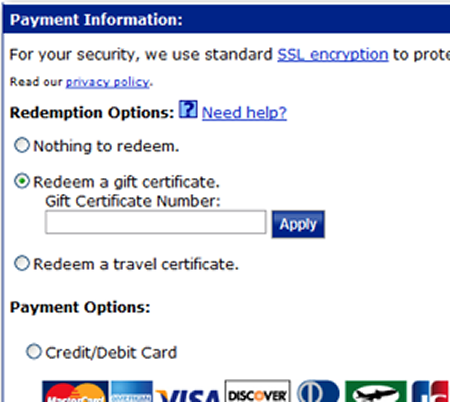 I looked at my Customer Care Certificate again. I couldn't see a 'Gift Certificate Number'. I do have a 'Certificate PIN'. Just as anyone else would have done in this situation (I am sure) I typed the Certificate PIN number in the Gift Certificate Number box and clicked 'Apply'. WRONG! 'Invalid Number', the screen told me. Urrgh!
Next, I clicked 'Redeem a travel certificate'. This was what I got: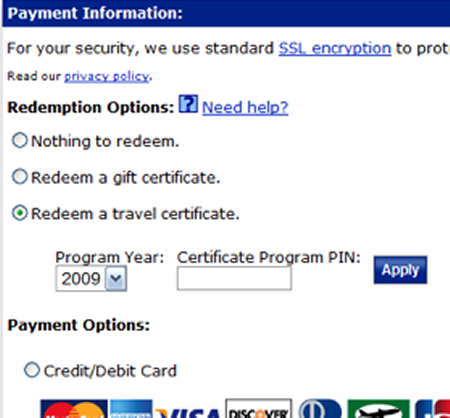 I saw 'Program Year'. I had no idea what the Program Year was. They lost my luggage. I didn't join any program. I was about to give up but then I saw 'Certificate Program PIN'. I looked at my Customer Care Certificate again. I have a 'Certificate PIN'. I thought 2 out of 3 ain't bad. I gave it one more try. I typed the 'Certificate PIN' in the 'Certificate Program PIN' box, hit 'Apply', and kept my fingers crossed. BINGO! It worked. However, by now, this airline's valued Platinum Million Mile member was totally frustrated. This could have been easily avoided if their terminology had been consistent.
Vocabulary issues magnify even more with business rules. Imagine if the airline had 3 simple rules:
A Gift Certificate must not exceed $1,000.
A Travel Certificate must not exceed $2,000.
A Customer Care Certificate must not exceed $3,000.
What if my Customer Care Certificate was $2,200? If I tried to redeem under 'Travel Certificate', it would say that I had exceeded the limit because a Travel Certificate needs to be less than $2,000. Can you imagine my frustration if that had happened? Even worse, what if the screen did not tell me what was wrong — what if it simply rejected my $2,200 redemption without providing any clear direction on what to do to correct it? I am sure we can all relate. I am sure we have all experienced similar frustrations.
What is important to recognize is that these issues are not system issues. They are business issues. It is imperative that the business recognizes the need for consistent terminology and has a method to use consistent terminology. One common Business Vocabulary modeling technique is Fact Modeling.[1]
Lastly, I like to tell my clients that I can easily provide an estimate for specifying their business rules, given a scoped area. I like to also tell them that if they don't need me to align the rules with business vocabulary with the rigor that we practice, I can actually do the rules in half the time. The resulting set of rules will look very solid — just like in my three examples above. However, issues will likely not surface until the damage is done (i.e., when the client stumbles into the issue). Keep this in mind when you are writing business rules: the terminology is your key to success.
References
[1]  Fact Modeling is described by Ron Ross in Business Rule Concepts: Getting to the Point of Knowledge, available at http://www.BRSolutions.com/b_concepts.php

# # #

Free How-To-Primers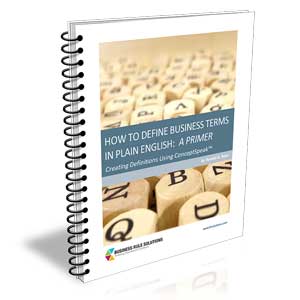 In The Spotlight
All About Concepts, Policies, Rules, Decisions & Requirements
We want to share some insights with you that will positively rock your world. They will absolutely change the way you think and go about your work. We would like to give you high-leverage opportunities to add value to your initiatives, and give you innovative new techniques for developing great business solutions.