How Business Requirements Serve Business Rules
Summary: In this month's video and column, Gladys answers the question "What's the difference between business rules and business requirements?" with an example familiar to anyone with teenage kids.
Watch Gladys' latest video blog entry below.
When I start working with new clients, the one question that invariably comes up is "What's the difference between business rules and business requirements?" I briefly took a look at this question in my Business Rules 101: What's a Business Rule? column, but let's dive a little deeper.
Business Rules vs. Business Requirements
Here's a story that will be familiar to readers with kids of a certain age. Like many concerned mothers, when my daughter hit the driving age, I decided we needed to have some rules. Those rules were the following: no staying out past 10:30pm (grumbles); no letting new drivers — i.e., any of her friends — take her home without my permission ("Oh, Mooommmm."); no getting in a car with people I didn't know ("WHAT! I'm sixteen, you know — you don't know all my friends!"); no going anywhere with strangers ("I'm not stupid, Mom!"); letting me know where she was at all times ("Oh BOY!" — big sigh).
My daughter thought about it for a little while and then agreed to follow the rules. However, she had one requirement. Want to guess what it was?
Her own car!
Business Requirements Serve Business Rules
What made my daughter's request a requirement rather than a rule? The fact that owning a car would make it easier to comply with my rules.
Put simply, business RULES tell you whether you may or may not do something or provide you with the criteria and conditions needed to make a decision. Business REQUIREMENTS, on the other hand, enable the implementation and compliance of business rules.
Various business requirements can enable the implementation and/or enforcement of business rules — my daughter could have taken the bus rather than own a car. Rules shouldn't be changed to fit requirements — my daughter still had to be home by 10:30pm. A change in a rule can entail different or additional requirements, but a business rule stays what it is.
When my husband asked me why our daughter needed her own car, I was able to tell him that it was so she could be home on time without accepting rides from strangers or beginner drivers. One of the most important things about business rules is that they tell you WHY.
# # #

Free White Papers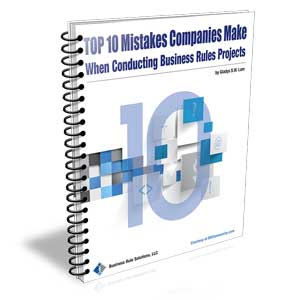 In The Spotlight
All About Concepts, Policies, Rules, Decisions & Requirements
We want to share some insights with you that will positively rock your world. They will absolutely change the way you think and go about your work. We would like to give you high-leverage opportunities to add value to your initiatives, and give you innovative new techniques for developing great business solutions.