Strategy-Based Metrics for Measuring Business Performance
Summary: What things should you monitor in an operational business capability? What things are truly make-or-break in day-to-day operation? How can you tell whether a business solution is really successful once in operation? To answer these questions you need metrics. What should such metrics be based on? They can be based either on strategy or on business process models, but we believe those based on strategy are much more important. This month, Ron and Gladys explain what strategy-based metrics are about and how they differ from process-based ones.
Excerpted with permission from Building Business Solutions: Business Analysis with Business Rules, by Ronald G. Ross with Gladys S.W. Lam, An IIBA® Sponsored Handbook, Business Rule Solutions, LLC, October 2011, 304 pp. URL:. http://www.brsolutions.com/bbs
Developing the right metrics or key performance indicators for an operational business capability requires a solid understanding of what things are crucial for on-going business success. Such understanding is embodied in the strategy on which the capability is based, in particular on business goals and business policies. Basing metrics on business goals and business policies permits you to demonstrate true business alignment quantitatively.
Strategy-Based Performance Metrics
The most critical metrics for a business capability focus on the strategy for the business solution. (Our deliverable for such strategy is called a Policy Charter.) These metrics aim toward assessing the success (performance) of the strategy on a continuing basis. Strategy-based metrics fall into two categories: goal-based and policy-based.
Goal-Based Strategy Monitors
Goal monitors are metrics for determining whether business goals are being satisfied. At first glance, goal monitors often seem relatively straightforward. The devil is in the details. Capturing and specifying practicable business rules that support goal monitors often requires significant analysis. An example:
Business Goal: To keep customers satisfied

Ask: How can we determine whether this business goal is being met?
Table 1 illustrates some analysis for this business goal.
Table 1. Potential Goal Monitors and Related Business Questions
for Developing Practicable Business Rules.

Potential Goal Monitor

Related Business Questions for Developing Practicable Business Rules

No more than 10% attrition rate of customers per year.

The manner in which the attrition rate is determined.

At least 50% of customers placing more than one order in a six-month period.

The manner in which the number of orders placed in a given period by a given customer is determined. Are rejected orders counted? Are cancelled orders counted? Are customers who haven't paid counted?

At least 33% of customers providing at least one referral per year.

The manner in which referrals are
associated with customers. What constitutes a referral?
Policy-Based Strategy Monitors
Policy monitors are metrics for determining whether the true business intent of a business policy is being satisfied. Here are some facts of life about actors in the everyday drama of business activity:
Actors will modify their behavior to adjust to your business rules.


Actors will come to know some of your business rules — including some you probably didn't want them to.


Actors will see that some of your business rules could be exploited or subverted — and some actors will attempt to do so.
If the exploited or subverted business rules are based directly on business policies, that can't be good! Table 2 presents an example.
Table 2. Example of a Policy Monitor for the Business Capability Order Fulfillment.

Unacceptable
Business Risk

Orders $1,000 or over on credit without a credit check.

Business Policy

Orders on credit over $1000 should be
credit checked.

Potential Pattern
of Subversion

Instead of one order for $5,000, the bad guys might start putting in five orders for $999 each.

Policy Monitor

Number of defaults in the last 2 months on orders whose total amount is between $850 and $999.

Related Business
Questions for
Developing Practicable
Business Rules

The manner in which the total number of defaults is determined based on time frame and order total amounts. What constitutes
a default on an order?
The policy monitor in this example keeps tabs on actor activity right at the threshold of business risk ($1,000). Other policy monitors might address changes in rates of compliance and changes in related patterns of actor behavior.
Unintended Effects Will Happen
A colleague of mine on the Business Motivation Model (BMM) standards team, John Hall, relates a humorous but telling example of thwarted business intent. (He tells the story much better.)
The buses in London always ran late. To improve on-time performance, someone had a bright idea for a new business policy. Why not give drivers a monetary incentive for on-time end-of-route arrivals? So that's exactly what they did.
In due course they conducted a survey to determine how well the new business policy was performing. What did they find? Not at all what they expected. To their dismay many bus drivers had simply stopped picking up passengers when running late! But on-time, end-of-route arrivals? You betcha!
Performance Metrics for Business Processes
Discussion of metrics often focuses on business processes, rather than on strategy (Policy Charter). Although metrics for the former can be important, we think metrics for the latter are generally much more so.
Nonetheless, you should consider carefully what key performance indicators you need for business processes. A business model is not complete without them. Aspects of business process models you might consider (factored as appropriate by time, location, role, worker, product variation, etc.):
Throughput,
Average, maximum, and minimum elapsed time between completion of business tasks,
Queue volumes, bottlenecks, and resource load comparisons,
Percent of work following exception paths or requiring manual intervention,
Delays, wastage, and rate of product defects.
When Are Metrics 'Done'?
Key performance indicators are really never done. Perception of business risks changes with time; modifications of business policies produce new patterns of business activity; customers become smarter (faster and faster) … the list goes on. Inevitably, initial specifications for key performance indicators will evolve and new key performance indicators will emerge.
Basing deployment of key performance indicators on business rules enables rapid, continuing adaptation. And meaningful adaptation. As business rules, the key performance indicators will remain grounded in the structured business vocabulary (concept model, sometimes called fact model). Without such grounding, metrics can quickly come to have literally no meaning whatsoever.
# # #
About our Contributor(s):

Publications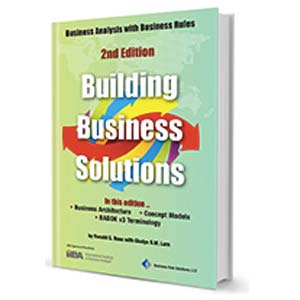 In The Spotlight
All About Concepts, Policies, Rules, Decisions & Requirements
We want to share some insights with you that will positively rock your world. They will absolutely change the way you think and go about your work. We would like to give you high-leverage opportunities to add value to your initiatives, and give you innovative new techniques for developing great business solutions.