What Kinds of Decisions Are Appropriate for Decision Analysis?
Summary: Buzzwords that seem to cover everything may soon effectively cover nothing at all. A significant concern about the terms 'decision' and 'decision management' is how easily everything potentially becomes a decision. Software vendors love it when complex problems can be reduced to single buzzwords. Engineers of true business solutions should hate it. What is the appropriate target of decision analysis? What understanding of 'decision' should business analysts have? What's useful and what's not? In this month's column, Ron Ross examines these and related questions.
Top‑down analysis of operational business decisions is extremely useful, either alongside, or apart from, business process models. We have a highly-pragmatic approach for decision analysis based on question charts (Q‑Charts™).[1] We use it extensively to capture decision rules.
That said, do I think that decision analysis is the most important part of delivering a winning business solution? No, not by a long shot. For example, your strategy for the business solution is much more important.
Even strategy, however, is not nearly enough — it tells you only why. Business analysts need business models that cover all the aspects of a business solution (think what, how, where, who, and when). So no, smart business solutions don't boil down to just 'decisions' — unless by that you mean anything and everything. What good is that?!
A first step in applying decision analysis effectively in business analysis is establishing proper scope for the notion of decision itself. What exactly should the target of decision analysis be? Here are three criteria we've found essential in targeting decisions successfully.
1. Business decisions
If someone defines business rule as "an action to be taken when a condition is met" you can be pretty sure he or she will fail to see the difference between a business decision and a system decision. The same is true if someone says data and business rule in the same breath. True business rules apply to real‑world things (even if rendered in data), and never invoke actions directly. Think "Thou shalt not kill." What's the action in that?!
So things like validating data and handling violations of business rules[2] simply do not qualify as true business decisions. A business decision involves weighing business factors in order to identify the correct or best business decision from among alternatives. The business needs to make a smart selection or determination that directly matters in the course of doing business. Example: Who is the best service representative to assign to this customer at this point in time?
Instead of simply decision, we therefore always say business decision. To qualify as a business decision, a decision must play an immediate role in the business side of the house, not just in IT systems.
2. Operational business decisions
We're also always careful to say operational business decision instead of simply business decision. For decision analysis, we want to carefully exclude
governance decisions (e.g., a decision to create a business policy).
strategy decisions (e.g., a decision to do business in China over the next five years).
The reason is not because these kinds of decision are unimportant — clearly they are quite important. Rather it's because these kinds of decision need their own techniques and approaches. You shouldn't ask decision analysis to do too much — it's not a one-size-fits-all approach.
Practitioners need a succinct definition of what an operational business decision is and isn't in the context of business analysis. We define an operational business decision as:
a determination in day-to-day business activity requiring selective business know‑how or expertise; the resolving of an operational business question by identifying some correct or optimal operational business choice
To make operational business decisions you need decision rules (think classification or inference rules) that 'map' cases to outcomes.
Something sometimes mistaken for operational business decisions are 'trial runs' that essentially ask "What would happen if this operational business task were performed right now for this particular case?" Example: Test a claim against all behavioral business rules to see if the claim is acceptable before it is processed for real. That's simply a test or trial, not an operational business decision.
The Two Kinds of Rules in SBVR[3]
The two types of business rules in SBVR are definitional rules and behavioral rules.
A definitional rule bestows a necessity or impossibility on knowledge, and so cannot be violated per se. Decision rules are definitional.
A behavioral rule bestows an obligation or prohibition on people and organizations, and so can be violated. Regulations and business policies often result in behavioral rules.
For more about the distinction see Decision Rules vs. Behavioral Rules on BRcommunity.com.[4]
3. Organizational, not personal, decisions
Business solutions usually involve large numbers of both decision rules and behavioral rules.
Behavioral rules are rules you can violate, like speeding through a school zone. There's no decision to that. You either are or you aren't speeding. If detected by a radar gun, that's an event (for which you might be ticketed).
Well, of course, you might have made a
personal
decision to speed, but City Hall certainly won't care. Personal decisions are definitely out of scope for decision analysis, no matter how smart (or dumb) they are!
For further information, please visit BRSolutions.com
References
[1]  Decision Analysis — A Primer:  How to Use DecisionSpeak™ and Question Charts (Q‑Charts™).  Free on http://www.brsolutions.com/b_ipspeakprimers.php  

[2]  Ronald G. Ross, "Smart Business Analysis — Don't Drown in Decisions," Business Rules Journal, Vol. 15, No. 2 (Feb. 2014), URL: BRCommunity.com/a2014/b742.html  

[3]  The OMG standard SBVR (Semantics of Business Vocabularies and Business Rules).  For information about SBVR see the SBVR Insider section on http://www.BRCommunity.com/  

[4]  Ronald G. Ross, "Decision Rules vs. Behavioral Rules," Business Rules Journal, Vol. 14, No. 7 (July 2013), URL:  http://www.BRCommunity.com/a2013/b709.html  

# # #

Free How-To-Primers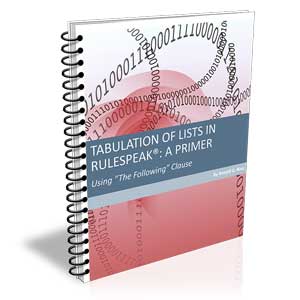 In The Spotlight
All About Concepts, Policies, Rules, Decisions & Requirements
We want to share some insights with you that will positively rock your world. They will absolutely change the way you think and go about your work. We would like to give you high-leverage opportunities to add value to your initiatives, and give you innovative new techniques for developing great business solutions.