The Two Fundamental Kinds of Business Rules Where They Come From and Why They Are What They Are
Summary: The two fundamental kinds of business rules relevant to business analysis are 'definitional rule' and 'behavioral rule'. These two kinds of rule come from OMG's SBVR (Semantics of Business Vocabulary and Business Rules) standard. They have very precise meanings based on formal logic. In this month's column, Ron Ross provides some background about that — more than business analysts really need to know to apply them successfully, but good-to-know nonetheless. At the end of the discussion he gives pragmatic definitions.
The SBVR[1] definition for rule is deeply embedded in formal logic, which deals with propositions. In modal logic, propositions can claim different modes. For business rules the two relevant modes are alethic and deontic.
Alethic rules are true 'by definition'. As such they cannot be violated. They are about how concepts, knowledge, or information are defined or structured.


Deontic rules are rules that can be violated. They are rules about behavior, not concepts, knowledge, or information. Deontic rules are really about people, what they must and must not do, even if their activity (and the rules) are automated.
Both kinds of rules are important, of course, but deontic rules — people rules — are especially so since, ultimately, businesses are about the activity of people. This situation is very different than in the semantic web, for example, where it's all about only knowledge.
Under modal logic, every rule must therefore 'claim' one of two modes. (In practice, the 'claim' arises naturally from the syntax of a rule statement or as a meta-property.)
Alethic implications (rules) are established by 'claiming' necessity. Things are necessarily true. A concept is what it is; says what it says. That's just the way things are.


Deontic implications (rules) are established by 'claiming' obligation. Behavior is 'obliged' to follow the rule. But, of course, people don't always follow the rules so there can be violations. Major difference.
So a rule 'claims' either necessity or obligation, which establishes what kind of rule it is. Therefore the SBVR definitions for the two kinds of rule are:
Definitional rule: rule that is a claim of necessity


Behavioral rule: business rule that is a claim of obligation
Why doesn't the definition for definitional rule say "business rule" like the one for behavioral rule? Because some definitional rules are not 'under business jurisdiction' (in other words, business has no choice about them). Examples include the 'law' of gravity and all the rules of mathematics. Those rules are simply universally true.
I recommend the following pragmatic definitions for business analysts.
Definitional rule: a rule that indicates something is necessarily true (or untrue); a rule that is intended as a definitional criterion for concepts, knowledge, or information


Behavioral rule: a business rule that places an obligation (or prohibition) on conduct, action, practice, or procedure; a business rule whose purpose is to shape (govern) day-to-day business activity
Synonyms:
Early in the development of SBVR, I introduced the terms
structural rule
and
operative rule
for the two kinds of rules, respectively. That was before the full implications of modal logic became clear. Since then the terms
definitional rule
and
behavioral rule
have become preferred, even in all internal SBVR discussion. The synonyms, however, remain valid.
For further information, please visit BRSolutions.com
References
[1]  For more information about SBVR see the SBVR Insider section on www.BRCommunity.com.  

# # #

Publications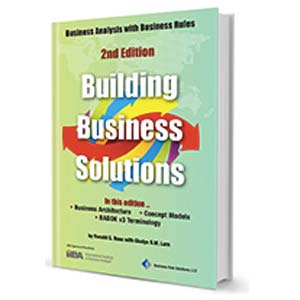 In The Spotlight
All About Concepts, Policies, Rules, Decisions & Requirements
We want to share some insights with you that will positively rock your world. They will absolutely change the way you think and go about your work. We would like to give you high-leverage opportunities to add value to your initiatives, and give you innovative new techniques for developing great business solutions.