Pattern Questions for Harvesting Business Rules About Organizations
Summary: The key word in understanding business rules for business organization is interaction. By 'interaction', as Ron Ross explains, we mean person-to-person or role-to-role business interactions in the real world (even if separated by time and distance). Often such interactions are supported by special work products and take place over active channels (e.g., connections via the internet). Business rules offer a powerful tool for business analysts to understand and orchestrate roles, interactions, work products, and channels. Pattern questions pertaining to these organizational issues assist not only in capturing related business rules, but also in discussing and resolving related business issues with business stakeholders. This month Ron Ross presents a targeted set of pattern questions to assist in that regard and illustrates them with practical examples
Excerpted with permission from Building Business Solutions: Business Analysis with Business Rules (2nd Ed.), by Ronald G. Ross with Gladys S.W. Lam, Business Rule Solutions, LLC, 2015, 308 pp. URL:. http://www.brsolutions.com/bbs
The key word in understanding business rules for business organization is interaction. By interaction, we mean person-to-person or role-to-role business interactions in the real world (even if separated by time and distance). Often such interactions are supported by special work products and take place over active channels (e.g., connections via the internet).
Business rules offer a powerful tool for business analysts to understand and orchestrate roles, interactions, work products, and channels. Pattern questions pertaining to these organizational issues assist not only in capturing related business rules, but also in discussing and resolving related business issues with business stakeholders. This month we present a targeted set of pattern questions to assist in that regard and illustrate them with practical examples.
What Are Pattern Questions??
Over the past decade we have developed a series of well-structured pattern questions in our methodology for business analysis, BABusinessSpeak™.  These pattern questions represent thinking tools to help business analysts harvest business rules from different kinds of models (e.g., business process models, concept models, etc.). Each pattern question:
focuses on a particular topical concern and some particular construct (pattern) found frequently in models of a given kind.


typically leads to many business rules for the same model.
The pattern questions are designed to assist practitioners in asking the right kinds of questions in the right ways. Answers typically lead to more questions — and to more business rules. The answers also frequently prove useful in validating and refining the underlying models.
Pattern Question for Business Role Qualifications
Pattern Question BO1:
Qualifications for Business Roles
What qualifications or experience should a person have to fill a business role?
Sample business rule specifying a business role qualification:
An operational manager must have at least 3 years experience in a field office.
Sample business rule specifying a business role qualification:
An inspector must attend a course covering new technical developments at least once a year.
Comments:
Business roles generally may be filled only by people properly qualified.
The business rule above, as well as all other examples in this discussion, is expressed using RuleSpeak®.[1]
Pattern Question for Business Role Responsibilities
Pattern Question BO2:
Responsibilities of Business Roles
What business responsibilities should a business role have?
Sample business rule specifying business role responsibilities:
An order of a given amount must be approved by the following.


| | |
| --- | --- |
| Amount of Order: | Approval Required By: |
Comment: Business roles are often charged with certain business responsibilities.
Pattern Question for Business Interactions
Pattern Question BO3:
Business Interactions
What restrictions are placed on how different roles should or should not interact in their business activity?
Sample business rule restricting a business interaction:
A union member may meet face-to-face with a company official only if a union representative is present.
Sample business rule restricting a business interaction:
A trainee may send a memo to a manager only with the permission of his supervisor.
Comments:
Interactions between business roles are often restricted in certain ways.
Business interactions are not limited to just people or roles. An organizational unit (e.g., the eMarketing Department) or another company (e.g., a partner in a supply chain) can also be involved in business interactions.
Pattern Question for Work Products
Pattern Question BO4:
Work Products
What restrictions are placed on the form that work products should or should not take based on their business purpose?
Sample business rule restricting a work product:
A contract over $100,000 for construction of a new vessel may be signed only if all the following are true:
• A feasibility study has been performed for the new vessel.
• The feasibility study includes all stress tests appropriate for
that kind of vessel.
• Each stress test is completed and certified by a qualified engineer.
Comment: Work products must often be produced in certain forms (e.g., notifications, requests, sign-offs, analyses, position papers, legal agreements, etc.) to support business interactions properly.
Pattern Question for Business Channels
Pattern Question BO5:
Business Channels
What restrictions are placed on the business aspect of interacting through specific channels?
Sample business rule involving a business channel:
An opt-in choice covering promotional offers must be made available to every registered member of the company's web-site.
Sample business rule involving a business channel:
A promotional offer may be sent only to registered members of the company's web-site who opt-in.
Sample business rule involving a business channel:
An invoice may be sent to a customer only through the customer's preferred invoice delivery method.
Comments:
These days, interactions between people take place over an ever-growing number of active channels (e.g., websites, smart phones, ATMs, etc.). Business rules are often needed to coordinate the business (not technical) aspects of interacting via such channels.
Interactions over time or at a distance require infrastructure (e.g., the internet). Designing how such infrastructure is best used (e.g., based on GUIs and use cases), should be addressed as part of the system design, not the business analysis.
Next month's discussion focuses on pattern questions specifically for business geography.
For further information, please visit BRSolutions.com
References
[1]  RuleSpeak guidelines for expressing business rules in structured natural language are free on www.RuleSpeak.com.  

# # #
About our Contributor(s):

Free White Papers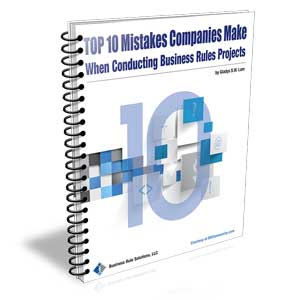 In The Spotlight
All About Concepts, Policies, Rules, Decisions & Requirements
We want to share some insights with you that will positively rock your world. They will absolutely change the way you think and go about your work. We would like to give you high-leverage opportunities to add value to your initiatives, and give you innovative new techniques for developing great business solutions.