Being Business-Friendly About the Life of Business Things
Summary: Why should business people care about the internal state of any process? For example, if a business person asks How far along are we in processing this order? the person is really asking: Has the order been credit-checked? Has it been filled? Has it been shipped? (etc.) In business operations it's the state of each operational business thing that matters. Business people want operational-level things to be coordinated through explicit regimens where business milestones are achieved and business rules are satisfied. Business analysts need a business-friendly way to talk about the states in these regimens and to write business rules about them. This month Ron Ross discusses how you can achieve these goals.
Excerpted with permission from Building Business Solutions: Business Analysis with Business Rules (2nd Ed.), by Ronald G. Ross with Gladys S.W. Lam, Business Rule Solutions, LLC, 2015, 308 pp. URL: http://www.brsolutions.com/bbs
The key words in coordinating operational-level things in a business are event and state. An event is simply something that happens in the business. A state is simply a condition or form of being. When an event happens, something always goes into a new state.
In day-to-day business activity, that 'something' is usually an instance of an operational business thing. For example, we might say a received order is now credit-checked. If the business cares about the events and states for some operational business thing, each instance of the operational business thing is said to have a life.
Two things are implied by an instance of an operational business thing achieving a new state in its life:
Some business action (transform) has completed successfully. For example, if we say an order is now credit-checked it might mean the business task Check credit has finished successfully.


All business rules applicable to the new state have been satisfied. For example, if we say an order is now credit-checked it means that all business rules pertaining to credit-checked orders have been satisfied at that point in time.
Each recognized state in the life of an operational business thing has a starting point called a business milestone. Analysis of business milestones is an excellent tool for capturing and analyzing related business rules.
The Happy Life
Operational business things such as orders have a life that encompasses an overall regime, a set of states that start with origination and end with final resolution. If all goes well (from the business point of view) this regime represents a happy life. Figure 1 illustrates a happy life informally for orders.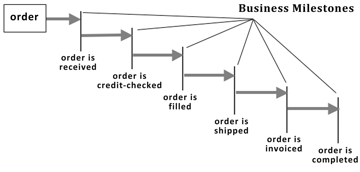 Figure 1. Informal Representation of the Happy Life of Orders.
This happy life of orders involves six business milestones. At each business milestone, an instance of order enters a new state, each closer to final resolution. The arrows represent the operational business events (successfully completed transforms) that get individual orders into the next state.
Note that each state is expressed using a past participle (e.g., received, credit-checked, filled, etc.). In English, a past participle represents a completed action, so states are always designated in this fashion. The past participle selected to designate any particular state should be one that is natural for business people.
Unhappy Business Milestones
In real life, unfortunately, things don't always have a happy life. For example, an order might be cancelled somewhere along the way. Best practices in developing business milestone models include:
Developing the happy life as fully as possible before addressing any unhappy states. Following this best practice will help you get started much easier.


Segregating states that are very unhappy (ones that are undesired and preclude successful termination). This approach enhances clarity and avoids conflicts among business rules.
Expressing Business Rules for States
Having developed a model for the life of an operational business thing, now you can write business rules. Some examples:
Business rule: A rejected order must not be credit-checked.

Business rule: A cancelled order must not have been shipped.
Remember that any such business rule applies to all
business processes within scope, not just one.
business tasks within each of those business processes (as relevant).
ad hoc business activity (as relevant).
When are Business Milestone Models 'Done'?
A business milestone model is not complete as long as there is any state some business rule needs to single out (reference).
Analysis of business milestones should be undertaken for each operational business thing within scope that has a happy life.
Other operational business things can have life too. An employee, for example, might be
active
or
retired
. Where there's life, there are probably business rules.
For further information, please visit BRSolutions.com
# # #
About our Contributor(s):

In The Spotlight
All About Concepts, Policies, Rules, Decisions & Requirements
We want to share some insights with you that will positively rock your world. They will absolutely change the way you think and go about your work. We would like to give you high-leverage opportunities to add value to your initiatives, and give you innovative new techniques for developing great business solutions.