Get the Circles Turning
Summary: Do you find it frustrating that, despite the powerful arguments for doing so, it can be very difficult to bring process-based management to life — to create a practical, sustainable implementation? While each implementation will have its own unique characteristics, Roger Tregear proposes that the basic approach is common. This month he shares how he sees it working and how you can make it happen.
Do you find it frustrating that, despite the powerful arguments for doing so, it can be very difficult to bring process-based management to life — to create a practical, sustainable implementation?
Having worked with many organizations in many national and organizational cultures, in the public and private sectors, and in small to very large organizations, I can tell you how I see it working and how you can also make it happen. Each implementation will have its own unique characteristics, but the basic approach is common.
In my previous column[1] I spoke about the key principle of the primacy of process. This says that cross-functional business processes are the only way that any organization can create, accumulate, and deliver value to customers and other external customers — the only way organizational strategy is operationalized.
It is, therefore, a necessary conclusion that the starting point for effective organizational management is to understand, manage, and optimize those business processes. Without a proactive focus on business processes, organizational performance cannot be optimized, and strategy cannot be effectively executed.
Thanks to the many people who have commented favorably on that idea and the way it was expressed, for example: "Right on the money, Roger. This message and insight has helped us transform from being Product/Channel centric to being end-to-end customer and staff experience focused." However, another correspondent nicely identified the key issue: "I always enjoy the way you present the case for thinking about process along with organizational structures, and I remain puzzled why such a simple concept continues to be such hard work to sell."
If these are such good ideas, why isn't everyone actively doing it?
Seems to me that we too often make it all too complicated; we set ourselves up for argument and dissent, rather than for success.
A short summary below of how I see it working. The key is to Get The Circles Turning!
4 Focal Points
To design, establish, and sustain a viable process-based management system, focus on these key areas:
Start with strategy
Keep it simple
Work top-down
Get The Circles Turning
Start with strategy
Since organizational strategy is executed via cross-functional business processes, the identification and documentation of business processes must start with strategy. What does the strategy promise and to whom? Or to put that another way, what are the organization's value propositions? Those value propositions will translate into the highest-level core processes of the organization. That's not very difficult to do, and it ensures that the resulting process architecture is embedded in the strategy. While this is not a trivial exercise, and often requires lots of discussion, debate, and testing of alternatives, if it proves too difficult, it is likely that the strategy was not as clear as was assumed.
Keep it simple
Always good advice. Yes, there are many elements in play in the management of an organization, but we don't need them all in the same diagram. I'm focused on business processes as the primary engine for exchanging value (see my previous column The Primacy of Process). Einstein's warning to 'make it as simple as possible but no simpler' is, of course, to be remembered, but I recommend that we start with processes and only add other elements if we find a gap that needs to be filled.
Work top-down
Start with strategy, with the highest-level purpose. An organization might start its process-based management journey from the bottom-up or the middle-out, but it can only be completed from the top down. Build a process architecture from the top down. Assign process performance measures from the top down. Design process governance arrangements from the top down. Strategy provides the guiding principles for the organization; it is the only solid starting point.
Get The Circles Turning
To achieve genuine process-based management, the processes are identified, performance targets are set, governance mechanisms are created, and process performance improved in a process-aware culture where everyone contributes, and appropriate support is provided. How can this be achieved in a practical and sustainable way? An elegant solution is found in two virtuous circles, the Tregear Circles — the PO circle (process ownership) and the PI circle (process improvement) — that facilitate and deliver process-based management. See Figure 1. I have written previous columns[2] about the circles, and also in my book Reimagining Management,[3] so just a short summary here.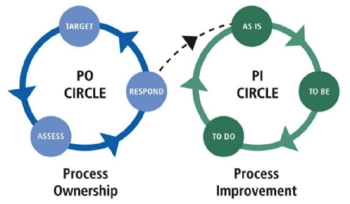 The circles are more than an interesting diagram. They describe a meta-model for practical process-based management, one that can be used at once and from which benefits accrue quickly.
The PO circle is continually and deliberately testing the performance of processes to uncover actual or emergent performance gaps driven by measurement, and innovation opportunities driven by ideas. The repeating cycle of target—assess—respond is the drumbeat of process management.
The PI circle is the process-improvement cycle that identifies the current state, defines the future state, and then makes evidence-based changes required to close prioritized performance gaps. The PI circle can be instantiated with any formal or informal process improvement methodology.
The PO circle determines whether process adjustment is required in response to a current or emergent performance anomaly, or a development opportunity; the PI circle discovers, details, and delivers the business-process change.
Conscious process-management activity starts with the PO circle. The requirement is to be continually aware of performance gaps or opportunities to challenge the status quo and making evidence-based decisions about which gaps need to be partially or completely closed, and in what order.
Processes are selected for PI-circle treatment based on PO-circle analysis. Pervasive process improvement should be a deliberate, systemic management act. Effective ongoing improvement requires a constant search for processes that can be improved.
Many organizations do something like continuous process improvement; not enough do continuous process management. Turning the circles makes that possible.
The Tregear Circles show the simplicity and the complexity of process-based management. Turning together, they achieve what many organizations struggle to achieve when focusing on just one alone. With the circles turning, strategy is enacted through continually improved and actively managed business processes.
Get the circles turning!
Bring process-based management to life
Do this. Start with the strategy and identify the process architecture to three levels of core processes. Select a small number of demonstration processes. Determine the critical few performance measures for the selected processes. Assign process owners. Collect performance data and change ideas. Get the circles turning. Improve process performance. Rinse and repeat.
References
[1]  Roger Tregear, "The Primacy of Process," Business Rules Journal, Vol. 19, No. 2, (Feb. 2018) URL: http://www.brcommunity.com/a2018/b942.html

[2]  Roger Tregear, "Turning the Virtuous Circles," Business Rules Journal, Vol. 17, No. 12 (Dec. 2016), URL: http://www.BRCommunity.com/a2016/b884.html

[3]  Roger Tregear, Reimagining Management, (2016) https://www.leonardo.com.au/reimaginingmanagement

# # #

Free How-To-Primers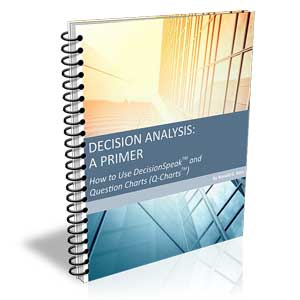 In The Spotlight
All About Concepts, Policies, Rules, Decisions & Requirements
We want to share some insights with you that will positively rock your world. They will absolutely change the way you think and go about your work. We would like to give you high-leverage opportunities to add value to your initiatives, and give you innovative new techniques for developing great business solutions.