Process Owners — the Daze of our Lives
Summary: What does a Process Owner do? In this column, Roger Tregear gives practical insights into the answer to that question by describing a cycle of work that is at the core of the Process Owner (PO).
What does a Process Owner do?
In this column I want to give practical insights into the answer to that question by describing a cycle of work that is at the core of the Process Owner (PO) — at least how I understand and recommend that role.
Process Owner role
First, a quick review of how I see the work of a PO. More detail in my previous column.[1]
The activities of a successful PO are driven by questions such as the following that define a continuous improvement mindset.
Are there any process performance (problem or opportunity) gaps and, more importantly, what are the impacts of those gaps? What would be the impact of capitalizing on some new idea, even if current performance seems OK? Should we act now or later? It's not just about problems and their causes and opportunities and their constraints, we need to know the business impact of fixing, or not fixing, the problem or realizing, or not realizing, the opportunity. What's the business case for change? What's the business case for not acting?
A change may not be as good as an improvement.
The PO collaborates with process stakeholders to determine the critical few PKPIs, i.e., the minimum set of PKPIs that will safely indicate if the process is working as well as stakeholders need it to. Then they agree the targets, measurement methods, and performance impacts related to those PKPIs.
Then the real work starts, i.e., coordinating review and analysis, and intervening to sustain and improve process performance where possible and appropriate. If this last phase isn't happening, everything else is a waste of time.
Meet our Process Owner
The Whyte & Brite Laundry is co-owned and operated by Mike Whyte and Barbara Brite. They have worked together for six years to build a successful business that now employs 73 staff over two shifts across seven days per week. When they first started, it was just the two of them working out of Mike's garage. Now they have a large purpose-built site with an investment of several million dollars in buildings and equipment.
There are two types of Whyte & Brite customers: commercial and personal. Essentially the same services are provided to each, with the difference being in volume and commercial arrangements. Personal customers are individuals who take clothes to Whyte & Brite for cleaning and, where required, ironing.
Barb's PO world
As well as her main job as CEO and co-owner of W&B, Barbara Brite is the Process Owner for the process Provide Personal Laundry Service. She is the most senior executive in the organization and has taken on this PO role because this process is mission critical.
Let's walk through a scenario to see how process-based management works at W&B and the centrality of the PO role.
As PO, Barb receives weekly PKPI data for Provide Personal Laundry Service.


The data indicate that the PKPI that tracks on time delivery is showing an important deterioration of performance.


Further analysis of some other available data, discussions with operational staff, and physical observation of the process confirm there is a problem, and it will have a serious impact if not fixed urgently. Action is required.


Barb presents the analysis to the weekly meeting of the process stakeholder group (PSG) which is comprised of the managers and key staff involved in all parts of the process execution. This group includes the Laundry Operations Manager, Laundry Foreman, Chief Customer Officer, and the Customer Service Manager.


The PSG agrees that action is needed, and a process improvement project (PIP) is commissioned to be facilitated by the Laundry Operations Manager. It is also agreed that any PIP costs will be funded from the Operations Department budget.


The PIP takes two elapsed weeks to complete its analysis including a series of workshops that included the PSG from time to time, reviews with customers, and other subject matter experts as required.


The PIP was facilitated by an accredited Process Ambassador from the Customer Service department.


The PIP defined the problem in more detail, discovered the causes, quantified the impact of not fixing the problem, and designed changes to correct the problem.


Recommended changes were discussed and approved at the weekly PSG meeting.


The Laundry Foreman was asked to manage the change project which was jointly funded by separate budgets from Operations and Customer Service. Detailed project and change management plans were developed in line with standard W&B project management processes.


The change project took two months to complete. Meanwhile Barb was still getting weekly performance data and meeting each week with the PSG.


After the change project was finished, Barb and the PSG monitored the performance data closely to look for evidence that the change was effective (or not).


During the three months it took to complete the analysis and on-time delivery improvement project, a marketing campaign increased laundry volumes by 22%. This caused other performance stresses on the process requiring a new PIP to analyze and resolve material flow issues in laundry operations, but the data showed the original changes had been successful.


And the continuous process management and improvement cycle continued….
Guidelines & guardrails
Here are some summary suggestions that will give Process Owners, and the organization, the best chance of sustained success.
Pick the right people to be POs. Much of the role is about facilitating collaboration amongst groups of people. Not everyone can do that.


Select a PO from the right organizational level. Imagine the PO meeting with the functional managers whose teams execute the sub-processes. That group usually needs to be at more or less the same organizational level to be effective.


Give the PO zero authority and allow them lots of influence. Solve the "Who's in charge?" question by eliminating it.


Create an escalation path that allows POs, the Office of BPM, functional managers, and other stakeholders to appeal to a higher authority if the collaboration is stuck.


Support new (and established) POs. For many, this is very new and very different.
The Process Owner is the linchpin of successful and sustained process-based management. Done properly, it enables new opportunities for performance improvement. When not done well, it can give a whole new meaning to "cross" in cross-functional!
References
[1] Roger Tregear, "Who's in Charge?" Business Rules Journal, Vol. 22, No. 11, (Nov. 2021) http://www.brcommunity.com/a2021/c082.html
# # #

Free White Papers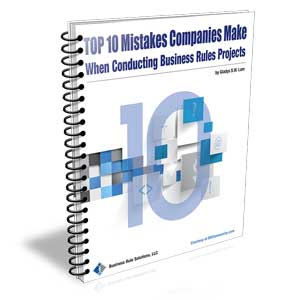 In The Spotlight
All About Concepts, Policies, Rules, Decisions & Requirements
We want to share some insights with you that will positively rock your world. They will absolutely change the way you think and go about your work. We would like to give you high-leverage opportunities to add value to your initiatives, and give you innovative new techniques for developing great business solutions.