SBVR Speaks on Rules: Violations of Business Rules
Summary: A fundamental insight of SBVR is that many rules in the real world (not software) are ones that people or organizations can violate. SBVR calls such rules 'behavioral business rules' and carefully differentiates them from 'definitional rules' (ones that pertain to defining concepts and that cannot be broken). Behavioral business rules are a highly pragmatic notion, one that fits the real world to a 't'. This extract presents an example. The following material is excerpted from the OMG standard Semantics of Business Vocabulary and Business Rules (SBVR), Version 1.5, p. 118.
EU-Rent has concerns about regulations pertaining to taking cars across national borders and consequent implications for insurance coverage, so it restricts the area for a rental. It has the following behavioral business rule, named the Area of Usage Rule:
Area of Usage Rule: No rented car of an open rental may be outside the authorized area of the rental.
Sample violation scenario: EU-Rent discovers that the rented car of an open rental is outside the area authorized for the rental. In other words, the behavioral business rule is violated by the rental.
In such circumstances, EU-Rent could respond by:
(1) Taking some remedial action such as canceling the rental. The required new state of affairs could be addressed by the following rule, which uses the verb concept "behavioral business rule is violated":
An open rental must be canceled if the Area of Usage Rule is violated by the rental.
Observations:
Like all rules in SBVR, this rule takes no action; rather, it simply requires the 'canceled' state of affairs for the rental. Any action taken to cancel the order is outside the scope of the rule and of SBVR.


This behavioral business rule governs the behavior of EU-Rent staff, whereas the Area of Usage Rule governs the behavior of EU-Rent's rental customers.
(2) Taking consequential actions — e.g., notifying the insurer; advising the renter that the rental is canceled and they are not insured and should not drive the car; recovering the car and charging the renter for the recovery; etc. Such actions, as before, are separate from the rule violation itself, and outside the scope of SBVR.
(3) Imposing some sanction — canceling any future rental contracts for the renter, and barring the renter from being an additional driver on current or future rentals. Applicable sanctions could be specified in the form of additional behavioral business rules, though any actions to apply them would again be separate and out of scope.
# # #

Free How-To-Primers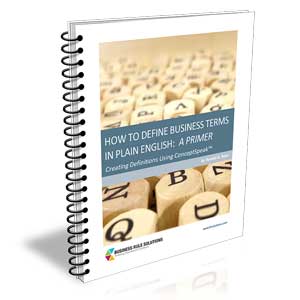 In The Spotlight
All About Concepts, Policies, Rules, Decisions & Requirements
We want to share some insights with you that will positively rock your world. They will absolutely change the way you think and go about your work. We would like to give you high-leverage opportunities to add value to your initiatives, and give you innovative new techniques for developing great business solutions.