10 Things About Business Rules You Want to Know But Were Afraid to Ask
Summary: In this 30+ minute podcast, Gladys gives probably the best and most insightful explanation of business rules ever. Very engaging, practical, and down-to-earth. It may change the way you think not only about business rules, but about business analysis and business innovation as well. Have a listen — yes, it's that good! The podcast was recently conducted by Laura Paton of BA Academy, Inc.
Listen to the podcast.
# # #

Publications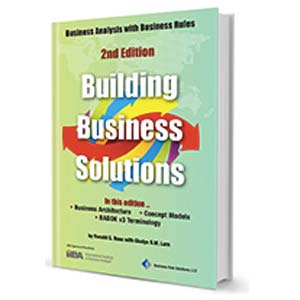 In The Spotlight
In response to a great many requests, Business Rule Solutions now offers at-a-distance learning options. No travel, no backlogs, no hassles. Same great instructors, but with schedules, content and pricing designed to meet the special needs of busy professionals.