10 Things About Business Rules You Want to Know But Were Afraid to Ask
Summary: In this 30+ minute podcast, Gladys gives probably the best and most insightful explanation of business rules ever. Very engaging, practical, and down-to-earth. It may change the way you think not only about business rules, but about business analysis and business innovation as well. Have a listen — yes, it's that good! The podcast was recently conducted by Laura Paton of BA Academy, Inc.
Listen to the podcast.
# # #

Free How-To-Primers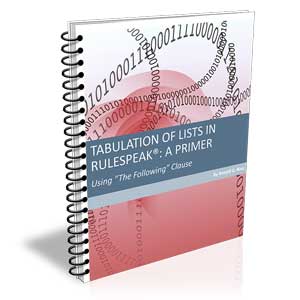 In The Spotlight
All About Concepts, Policies, Rules, Decisions & Requirements
We want to share some insights with you that will positively rock your world. They will absolutely change the way you think and go about your work. We would like to give you high-leverage opportunities to add value to your initiatives, and give you innovative new techniques for developing great business solutions.