SBVR Speaks on Rules: Enforcement Levels for Business Rules
Summary: SBVR recognizes two fundamental categories of rules in the real world (not software). One of these categories is behavioral business rules, which are rules that people or organizations can violate. SBVR also recognizes that how strictly you decide to enforce a behavioral business rule is a completely separate question from the guidance the rule gives — and that such an enforcement level can change independently of the rule itself. Although SBVR does not standardize enforcement levels, it does offer important examples, as this extract indicates. The surprising bottom line — guidelines are business rules too! The following material is excerpted from the OMG standard Semantics of Business Vocabulary and Business Rules (SBVR), Version 1.5, p. 118–119.
enforcement level: position in a graded or ordered scale of values that specifies the severity of action imposed in order to put or keep a behavioral business rule in force
An example set of levels of enforcement, based on Business Motivation Model (BMM):[1]
strict: strictly enforced — If you violate the rule, you cannot escape the penalty.


deferred: deferred enforcement — Strictly enforced, but enforcement may be delayed — e.g., waiting for resource with required skills.


pre-authorized: pre-authorized override — Enforced, but exceptions allowed, with prior approval for actors with before-the-fact override authorization.


post-justified: post-justified override — If not approved after the fact, you may be subject to sanction or other consequences.


override: override with explanation — Comment must be provided when the violation occurs.


guideline: guideline — suggested, but not enforced.
References
[1] The Business Motivation Model (BMM): Business Governance in a Volatile World by the Business Rules Group, http://www.brcommunity.com/brg/BRG-BMM.pdf, Original release: 2000 — OMG release: 2007.
# # #

Free How-To-Primers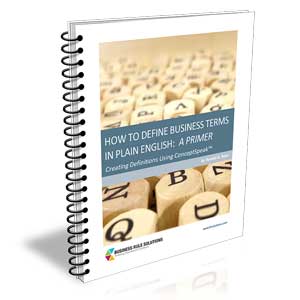 In The Spotlight
All About Concepts, Policies, Rules, Decisions & Requirements
We want to share some insights with you that will positively rock your world. They will absolutely change the way you think and go about your work. We would like to give you high-leverage opportunities to add value to your initiatives, and give you innovative new techniques for developing great business solutions.