Business Rules 101: What's a Business Rule?
Summary: In this month's video and column, Gladys Lam explains what a "business rule" is and provides an easy-to-understand example distinguishing a business rule from a system rule.
One of the things I enjoy most about my work as Principal of Business Rule Solutions is the opportunity to collaborate with a wide variety of organizations and industries.
But if there's one thing I constantly observe when I visit different organizations, it's that "business rule" mean different things to different people. What's more, companies tend to confuse "business rules" with business requirements.
The key to understanding business rules? The word 'business'
Let's take a closer look. A common mistake is thinking that you only need business rules when setting up systems. No. Business rules come into play before an application is required: they are criteria used in business operations to guide behavior, shape judgments, and aid decision-making.
How can you tell if you have a business rule? Ask yourself if you need that rule if you don't have a system. Let's take a look at the following example: "A shipping invoice must have an address." You need that rule to know where to ship your order. Whether or not you have a computer system is irrelevant.
Business Rules vs. System Rules
The confusion stems from the fact that a lot of analysts think the business rule is "If a shipping invoice does not have an address, then display an error message." No. That is a system rule — one that provides you with a way to enforce the business rule.
You only have one BUSINESS rule: "A shipping invoice must have an address," and there are many ways to enforce it. If a shipping invoice does not have an address, you can have the system display an error message, look up the address from the client account, display a map, or ask for the address using a speech robot.
Ultimately, the way you choose to enforce your rule is entirely dependent on the technology you have at hand. But in order to act correctly, you need to know your business rules first.
The definition of a business rule is a criterion used in business operations to guide behavior or make decisions. Business rules are needed to ensure your business processes function correctly with or without an automated system.
# # #

Free How-To-Primers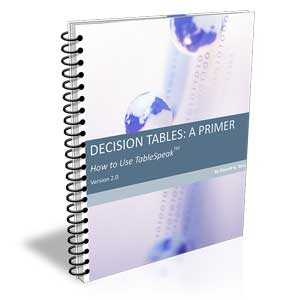 In The Spotlight
In response to a great many requests, Business Rule Solutions now offers at-a-distance learning options. No travel, no backlogs, no hassles. Same great instructors, but with schedules, content and pricing designed to meet the special needs of busy professionals.