Proven Valued Business Benefits
Summary: All the work we do to document, analyze, improve, and manage business processes must result in proven, valued, business benefits (PVBB). To test those results, Roger Tregear presents an important challenge question that should be addressed regularly: "What has been achieved through our business process work so far?" This month, Roger Tregear unpacks PVBB a little to see how we can define not just target outcomes but the mindset and approach that will enable such outcomes
All the work we do to document, analyze, improve, and manage business processes must result in proven, valued, business benefits. If this is not the result, then by our own definitions, what we are doing is waste and should be eliminated. That would be more than a little embarrassing.
An important challenge question that should be addressed regularly is this: "What has been achieved through our business process work so far?" You might identify deliverables such as:
documented the process architecture
modeled lots of processes
delivered process improvement projects
trained many people.
That's important and necessary work but can't be our objective. Much better if we can identify outcomes such as these:
customer satisfaction was 60%, now 90%
Produce invoice process errors eliminated
95% of 1st offers now accepted (was 65%)
time to issue permit reduced 50%.
If we can do that we've gone well beyond the tools and artifacts of analysis to deliver proven benefits that enhance organizational performance and are therefore valued by the organization.
PVBB (proven, valued, business benefits) defines not just target outcomes but the mindset and approach that will enable such outcomes.
Let's unpack PVBB a little.
Proven
Show me the data. If there is no evidence, the improvement didn't happen. Don't ask for an act of faith. Show me the hard, objective, quantitative evidence of process performance improvement.
Also, prove to me that the performance data is credible, and the data collection method is reliable and repeatable.
Life is too short to waste time on arguments about data quality and whether a process performance improvement happened.
If a process is worth being under active management, then we should know enough about it to continually report on past and current performance levels as well as predict future performance — all based on irrefutable data.
Valued
Delivered benefits must be genuinely valued by the business, not just the process practitioners. If someone outside the BPM team didn't get excited about the delivered benefit, then it's not much of a benefit.
The hard evidence that an internal business unit or decision maker values the outcomes of process improvement work will be that they recommend the approach to others, they come back for more assistance, and/or they are supportive in discussions about further commitment to, and funding of, process management and improvement across the organization.
Change should also be valued by those the organization serves, the customers and other stakeholders. This won't apply to every change but if, for example, a process change is aimed at improving the customer experience, then we can only rely on the advice of the customers to know if the change has been effective. Similarly, a change aimed at improving regulatory compliance must also be valued by the regulator.
Process improvement must deliver valued improvement, and that value can only be determined by the intended recipient, not the BPM team.
If the value is not apparent, then it either was not delivered or was not properly explained, and in either case further work is required.
Business
Valued process performance improvements will relate to some important aspect of organizational performance. The change should relate unambiguously to the enhanced achievement of an important strategic or operational objective.
A process improvement worth having will make the organization more successful.
Few changes will have significant, disruptive effects, but every change must have a measurable effect on the business operation. And if we can't identify that then there is something lacking in our understanding of the business process, or the business.
Benefits
Keep it real. Decision makers in our organizations are not sitting around waiting for the process folks to turn up with a new idea. They are dealing with the complicated, messy business of planning and management. They'll be keen to hear about improvement ideas but will likely have little capacity for speculative experimentation.
Hard evidence of previous success will get their attention. What if you could display, perhaps incrementing in real time, the cumulative total of financial savings to date from all process improvements? Now that would attract attention!
A process improvement must be a solution to a current business problem, an avoidance of an emerging problem, or the fulfilment of a real opportunity.
PVBB
Proven, valued, business benefits. For a process improvement to be real and worthwhile it must be a benefit to the business; it must be about the business. It must be valued by the business, not through an act of faith but because of proven process performance data. The difference between an opinion and a fact is proof.
PROVEN. VALUED. BUSINESS. BENEFITS.
Make a sign, literal or figurative, and keep the idea front of mind.
# # #

Free How-To-Primers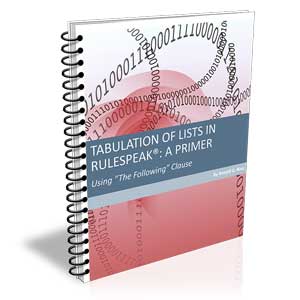 In The Spotlight
All About Concepts, Policies, Rules, Decisions & Requirements
We want to share some insights with you that will positively rock your world. They will absolutely change the way you think and go about your work. We would like to give you high-leverage opportunities to add value to your initiatives, and give you innovative new techniques for developing great business solutions.