Opportunities in the Rules Space: What Else Should Rule Platforms Be Doing?
Summary: The opportunity for rule platforms in this decade is not just to get smarter, although certainly important, but to eliminate programmer workload. As Ron Ross points out, this requires asking some hard questions about what current platforms are not supporting well. The answers may surprise you.
Let's stand back and take a hard look at today's rules space. Three basic questions pop up immediately.
Question 1. Have we made significant progress?
This question is easy — absolutely! Decisions and the DMN standard[1] have made a major contribution to the industry. So, we can move right along.
Question 2. Why don't rules and rule platforms predominate?
Ten or fifteen years ago I would have thought that by now everybody in the world would be using business rules and rule tools. But they're not. Why?!
My view is that the tools the industry has offered simply haven't provided all the solutions that businesses need. We simply have not yet achieved the full potential of rules — not even close! There are still major opportunities to be seized on.
Question 3. What remaining challenges do rule tools need to address?
My three-part answer:
Eliminate programmer workload.
Better address sentiment and human discretion.
Tie in more directly to business governance.
Behavioral Rules
It's obvious that many rules can be broken. Think laws, regulations, contracts, agreements, MOUs, certifications, warranties, etc. Such rules are often one-off and sourced directly in natural language. Rules that people or organizations can break are called behavioral rules.[2] It's a mystery why, two decades into the 21st century, rule platforms don't support them.
A great impedance mismatch exists between DMN-style decision rules vs. behavioral business rules, based on whether evaluation of rules is modeler-invoked or state-based. The burden of validating states of affairs in modeler-invoked evaluation is shouldered by coders.
Modeler-invoked evaluation does not work well for behavioral business rules. Not catching violations in real time causes snowballing errors downstream and thus extensive rework. No wonder business software remains so complex and brittle.
Flash points are the specific events when a rule needs to be evaluated based only on its semantics — i.e., using no external model or specification (e.g., procedural model or decision model). Flash points for the same rule can occur in multiple processes, procedures, use cases, etc. or at various points in ad hoc (unmodeled) business activity. Invoking flash points automatically requires 'stateful' platforms.
The opportunity for rule platforms in this decade is not just to get smarter but to eliminate programmer workload — and maybe even rote-work programmers(!).
References
[1] DMN — Decision Model and Notation. For more information refer to: About the Decision Model and Notation Specification
[2] For example, as specified by the OMG standard Semantics of Business Rules and Business Vocabularies (SBVR). For more refer to: Standards : SBVR Insider — Business Rules Community / Business Rules Journal (BRCommunity.com)
# # #

Publications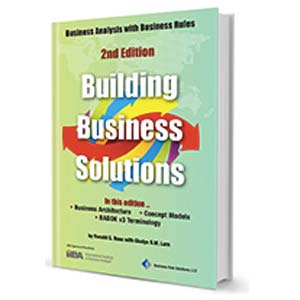 In The Spotlight
All About Concepts, Policies, Rules, Decisions & Requirements
We want to share some insights with you that will positively rock your world. They will absolutely change the way you think and go about your work. We would like to give you high-leverage opportunities to add value to your initiatives, and give you innovative new techniques for developing great business solutions.