How to Get Smarter with Decision Management
Summary: Decision management transforms your hard-to-change enterprise applications into action-oriented, flexible, predictive, smarter systems that learn and adapt. Smarter systems don't require ripping out and replacing existing applications. Smarter systems are simply your current systems made smarter. This month, James Taylor explains how Decision Management can transform your enterprise backbone into smarter systems using a simple three-step process: Decision Discovery, Decision Services, and Decision Analysis
Decision management transforms your hard-to-change enterprise applications into action-oriented, flexible, predictive, smarter systems that learn and adapt. Smarter systems don't mean ripping out and replacing existing applications. Smarter systems are simply your current systems made smarter using the decision management approach to applying decisioning technologies like business rules and predictive analytics as flexible services.
You get to smarter systems by applying the decision management approach — decision discovery, decision services, and decision analysis — to your decisioning technology implementation.
Companies adopting decision management use decision discovery to find the decisions that matter to their business and drive the results they seek. They replace embedded decisioning within operational systems with independent decision services built using a business rules management system, then make them smarter by adding predictive analytics. They close the loop with decision analysis, ensuring that the way decisions are being made is monitored and the results constantly improved.
Decision Discovery
Smarter systems focus on decisions, because decisions drive results. The decision discovery step uncovers the key business decisions and parameters that are now currently invisible in software code, manuals, and tribal knowledge.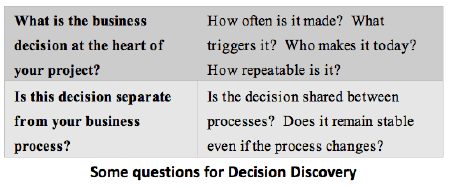 Start by determining which operational decisions matter most to your organization: Which are most relevant to the business strategies your executive team has put at the top of its agenda? Which could have the strongest impact on the business drivers and measures being used to chart progress toward those goals?
These are the decisions where decision management will deliver the biggest pay-off for your business. Identifying these decisions shows you where to focus your efforts and will be essential to showing a strong ROI that aligns with executive strategy.
The next step in decision discovery is to isolate these critical operational decisions from your business processes and IT systems. Describing and visualizing previously-embedded decisions as separate, discrete decision processes helps business stakeholders understand and take ownership of how decisions are currently being made. It also enables decision-making to be explicitly linked to key performance indicators and other metrics.
With improved clarity around which decisions matter most, how they're being made, and their impact on performance, you can determine what decision-making changes will be required to improve any given measure.
A government department was automating permits. The department was convinced it had 30 distinct processes, one to issue each of the different permits. But it really only had one — "What permits do they need?" Decision discovery showed that they had a citizen with a need (build a house, remodel, etc) and some information. By understanding the decision involved, the whole problem is turned on its head and becomes information-centric. The information available drives the response. The system makes a decision based on the information provided and then issues the relevant permits using a simple repeatable process. The result is a simple, easy-to-manage process that is more customer-centric. And all by putting the decision first.
Decision Services
Smarter systems stay flexible because they use reusable, independent decision services to replace the fixed decision points currently embedded in business processes and operational systems. These flexible services are built on a Business Rules Management System (BRMS) and deployed via a Service Oriented Architecture (SOA). Decision services generally do not update information — they just answer questions — and so have minimal runtime impact on operational systems.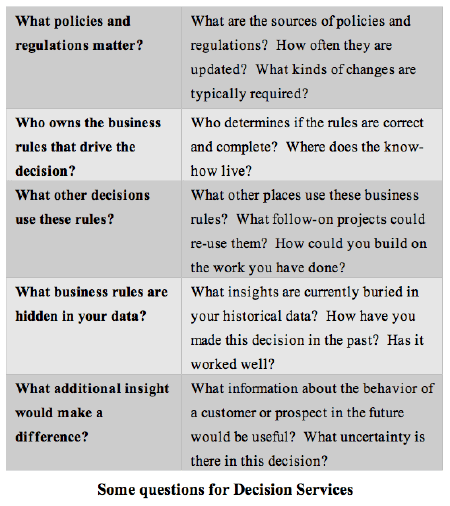 A large healthcare organization uses decision services across a number of different domains — customer acquisition, self-service, product specification, and more. These services support many organization processes with organization owners participating directly in managing the behavior of these decision services. One rule change needed five days of development effort using the old approach. With decision management, it was put into production in just one day with just 15 minutes of actual work on the rules.
The building blocks of decision services are the business rules you need to drive and support your new decision. Business rules comprise expertise, policies, regulations, and even what might be considered "tribal knowledge" about how your organization does business. There are many techniques for capturing this valuable know-how and making it explicit, including mining business rules from software code, reviewing regulations and policy manuals, and interviewing experts.
Analytics can also be used: rule induction techniques find rules that represent customer behavior patterns; classification and regression techniques can generate decision trees capturing the rules for segmentation.
Business rules put decisioning elements that used to be buried in code into a language that everyone (analysts, IT, business users, regulators) can understand. They're generally maintained in a common repository, accessible to and updated by both technical and business and technical users. The ability to share and repurpose these decisioning building blocks substantially reduces the time and cost involved in development and maintenance.
Decision Analysis
Smarter systems have a "test and learn" plan. They monitor and measure decision effectiveness. They are a "closed-loop" system that uses actual results to continuously improve.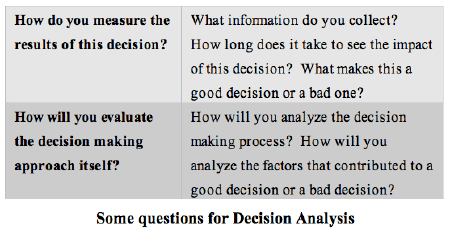 Decisions like risk decisions, marketing decisions, and pricing decisions are prime examples where investments in decision analysis pay off very quickly with continuously-improving results. Decision analysis ensures that smarter systems get smarter over time.
One European retailer uses smarter systems to create more effective promotion programs. Their marketing group crafts sophisticated promotional programs using analytical-derived rules to target particular groups of customers and particular products. They take available promotional tools such as coupons and loyalty program incentives and analytically determine the optimal mix. The resulting rules are managed centrally and then propagated out to each of their stores using a decision service called "offer arbitration." There, triggered by the customer's purchases and the scanning of the loyalty card during the checkout process, the decision service determines the optimal offer incentive. These offers are delivered directly to the terminals right at the point of sale. The terminal is informed by the decision service, then prints the appropriate coupon, issues the discount, and updates the customer's loyalty account, all in real time. The results are fed back to the smarter system and, through decision analysis, are used to improve the promotion for the next interaction.
Conclusion
In an increasingly uncertain world, businesses require agility more than ever. But no organization can be more agile than its systems. Decision management transforms your hard-to-change IT applications into action–oriented, flexible, predictive, smarter systems that learn and adapt.
Smarter systems are not just another new application. Smarter systems are your current IT applications made smarter, using decision management to effectively apply decisioning technologies like business rules and predictive analytics as SOA services. No rip and replace.
Applying the steps of decision discovery, decision services and decision analysis delivers smarter systems. Smarter systems are what your business needs now and in the future to survive and thrive.
# # #

In The Spotlight
All About Concepts, Policies, Rules, Decisions & Requirements
We want to share some insights with you that will positively rock your world. They will absolutely change the way you think and go about your work. We would like to give you high-leverage opportunities to add value to your initiatives, and give you innovative new techniques for developing great business solutions.