Making the Impossible Possible: (3) Presenting and Preserving
Summary: In this three-part series, Dagmar Cole first taught the Business Analyst (BA) how to nudge a negative team to a mental state where they are ready to tackle the impossible. Next, the BA learned how to use design thinking to solve the impossible. Now, in this concluding Part 3, Dagmar provides guidance on properly documenting the analysis and decision.
In Part 1, the Business Analyst (BA) learned how to nudge a negative team to a mental state where they are ready to tackle the impossible. In Part 2, the BA used design thinking to solve the impossible. Part 3 provides guidance to properly document the analysis and decision.
Documenting the impossible wicked problem is not the same as for a crisis or tame problem, as there were multiple threads of the Gordian knot and no clear solution. Preserving this tangled mess is a wicked problem of its own. The BA needs to invoke an "Agile Document" mindset, capturing only the data necessary to understand the issue and the influencers. Remember you are not writing for "now" but for three years in the future, when someone asks, "Why was this alternative selected?"
Rather than attempt a complex and convoluted problem statement, provide a point of view showing "who" is the user, their need, and current insight:

Present alternatives as a decision table using 'high', 'medium', and 'low' values: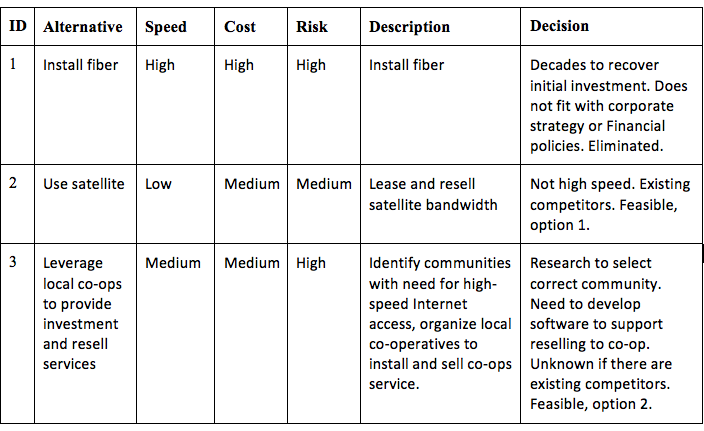 It's easy to get overwhelmed with information overload. Resolving wickedly impossible problems involves many details and many iterations, all on Post-It notes that were moved around a hundred times. I take photos of the white board at relevant decision points and save daily in a photo album with few notes. Capture only stable business rules and requirements; the Agile precept is 'sufficient'. The focus is on documenting the resolution — "what" was learned and "why" this data is important. Share the information with the participants; the stakeholders may have a different perspective and need to have a say in what is preserved.
I develop a presentation with just the high-level related information and present to the executives and stakeholders after each iteration. This feedback from executives and stakeholders provides critical insight, and the team can pivot or refocus as needed. This trail of presentations provides the primary source for my documentation at the end of the effort.
Congratulations! You kept the team in a positive emotional attractor mode and resolved an impossible problem to the satisfaction of the stakeholders. In the words of Samuel Johnson:
"Great works are not performed by strength, but by perseverance."
# # #

Free How-To-Primers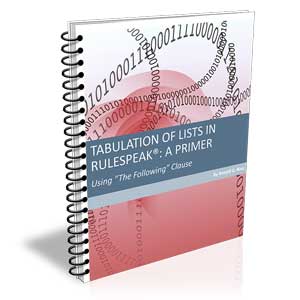 In The Spotlight
In response to a great many requests, Business Rule Solutions now offers at-a-distance learning options. No travel, no backlogs, no hassles. Same great instructors, but with schedules, content and pricing designed to meet the special needs of busy professionals.