Working During a Crisis
Summary: For weeks Dagmar had warned her director that she needed a replacement laptop. So when it crashed just when a time-critical report was needed — and the director panicked, applying even more pressure — she went into crisis-response mode. Learn about her techniques to work successfully in a stressful situation.
I had warned my director for weeks that I needed a replacement laptop. He sent me a spreadsheet he needed updated ASAP to review with the CIO in two hours. He called me just after an hour, furious: where was the document? Finished but unable to send because the laptop crashed. As he was screaming about how critical this spreadsheet was, I explained I needed to focus on getting the laptop revived, and hung up. While he was calling my co-workers to get me back on the phone, I ignored their pleas, grabbed my dead laptop and a tech person, and headed to a conference room. The document was emailed twenty minutes later, reaching my director fifteen minutes before his CIO meeting.
A crisis can be small or large, and can last minutes to months, but they all create an environment of high anxiety. Many people do not perform well under stress, but I thrive working under pressure. To work successfully in a stressful situation:
Be Realistic.
Be Focused.
Be Mindful.
Be Forgiving.
Be Realistic. Identify what is in your control and what is not; avoid wasting time on the "not." During a work crisis, an unrealistic goal is often thrust upon you by management. Identify the minimal tasks needed to accomplish the goal: "good enough" and skipped steps are acceptable. You may be asked to get out of your comfort zone; acknowledge to your colleagues you are in an unknown area, and do not be afraid to ask for help.
Be Focused. The mind is a monkey that jumps from thought to thought; it's difficult to focus during a crisis. Avoid getting distracted by the "noise" from your own mind or from other people. There is a job to accomplish; work one step at a time. If the task seems overwhelming, decompose into sub-tasks and aim to finish only the next sub-task. The cumulative effect of completing each sub-task results in achieving the goal.
Be Mindful. Stress has real physical impact; the heart and breathing speed up, and focus narrows. Combat the stress by being mindful of yourself and your co-workers. If any of you show signs of stress, it will spread anxiety to the rest of the group due to "emotional contagion." Quiet yourself by taking slow, deep breaths, and control the conversation to what needs to be accomplished. Force yourself to smile as this will release endorphins, lowering your stress level. This leverages emotional contagion to your advantage; your calmness will have a soothing effect on the team.
Be Forgiving. People react differently under stress; my director was panicked, resulting in anger. I understood this was his reaction to pressure and was not personal; I forgave him for his rant. We all need to practice kindness toward each other in stressful situations.
Remember these words from Amit Ray:
"In every crisis, doubt or confusion, take the higher path —
The path of compassion, courage and understanding."
# # #

Free How-To-Primers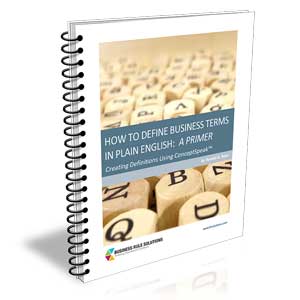 In The Spotlight
All About Concepts, Policies, Rules, Decisions & Requirements
We want to share some insights with you that will positively rock your world. They will absolutely change the way you think and go about your work. We would like to give you high-leverage opportunities to add value to your initiatives, and give you innovative new techniques for developing great business solutions.