Business Rule Motivation
Summary: Business Rule Motivation
In November 2000, after four years of effort, the Business Rules Group (BRG) published "Organizing Business Plans: The Standard Model for Business Rule Motivation."[1] This was intended as a model of the concepts and constructs that we expect to find in the Zachman Framework Motivation column (Column-6) from the Business model (Row-2) perspective. As such, our model serves to put a stake in the ground for more rigor and consistency in Management Science.
The concepts from that paper are all familiar to business people. The difference is in the rigorous specification in definitions and relationships that can be found in the paper. This article provides an overview of the model; the full paper should be referred to for more detail. It can be found on the BRG's web site, at www.businessrulesgroup.org/bmm.htm.
Before starting to investigate the model, it is important to understand our use of the term Enterprise. It has the typical meaning of an entire company, but it can also mean any arbitrary organizational unit in the organization that is trying to do planning. Enterprise can also mean a non-profit organization (or sub-unit) conceivably something as big as the Federal government. It can mean an academic institution (such as a college or university). All of these are applicable for this discussion.
Fundamentally, the Business Rules Motivation Model is about Ends, Means, and the Influences that impact them.
Ends are the state the enterprise wants to be in at some point in time.

The ultimate end-state is called the enterprise's Vision. Long-term planning — typically 3-5 years — is intended to reach Goals. Short-term planning — usually 1 year — is intended to reach Objectives. Besides the time targets, Objectives are different than Goals in that they must be measurable and are intended to be achieved. Goals may be measurable, but don't have to be, and are intended to set direction. Goals and Objectives are known as Desired Results.


Means are what the enterprise does or puts into place to enable it to reach or move towards its Goals.

The Mission of the enterprise is what it fundamentally does to reach its Vision. It identifies the fundamental activities, customers, and markets of the enterprise. Strategies are the long-term plans put into effect for the enterprise to reach its Goals. Tactics are the short-term plans put into effect for the enterprise to reach its Objectives.

Strategies and Tactics are Courses of Action. Business Policies and Business Rules are Elements of Guidance, which are a different type of Means. Although they are not Courses of Action, nevertheless they are put into place as kind of Means, to guide the drive towards Ends. While Business Policies may be generic, complex, and inexact, Business Rules must be atomic, specific, and precisely and rigorously defined. Otherwise they would not be as useful in guiding the enterprise.

All Elements of Guidance are subject to an Enforcement Level. At one end of the Enforcement spectrum, they may be strictly enforced with no deviations allowed. At the other end, they may merely be suggestions for behavior, with no penalties if broken.


Means and Ends are not created in a vacuum. There are many kinds of Influences that affect the development of Ends and Means.

Years ago, Michael Porter wrote about the forces in the environment, including Suppliers, Customers, Competitors, Partners, and Regulators.[2] In addition to these, we also recognize Technology and the Environment itself as External Influences.

There are also Internal Influences. These include Infrastructure, Resource Quality, Issues, Assumptions, Stated and Unstated Corporate Values, Habits, and Management Prerogatives.

The effects of both Internal and External Influences on Means and Ends must (well, at least ought to) be assessed by the organization. SWOT Analysis — standing for Strengths, Weaknesses, Opportunities, and Threats — is a classic management technique for Assessment of an enterprise.[3]

Any Assessment, whether SWOT or some other analytical technique, must be evaluated in terms of its Impact Value. That is, when an Assessment is made of the impact of an Influence on an End or a Means, we have to be able to determine the Risk or Potential Reward associated with that Means or End.


Enterprises that use the Motivation Model concepts to organize their planning effort should benefit from having a clearer and common perception of why they are doing what they are doing and why they are going where they are going.
References
[1] The Business Rules Group, The Business Motivation Model: Business Governance in a Volatile World, available at www.businessrulesgroup.org/bmm/BRG-BMM.pdf.

[2] Porter, Michael: Competitive Advantage, The Free Press, New York, 1985. Note: Porter also wrote about New Entrants, which we consider a Competitor in a previous state, and Employees, which we think of either as Partners or as an Internal Influence.

[3] Wikipedia, "SWOT analysis," at https://en.wikipedia.org/wiki/SWOT_analysis

# # #

Free White Papers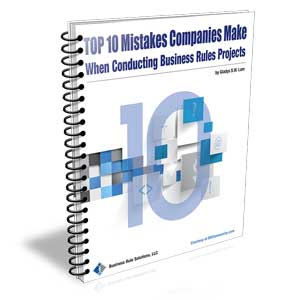 In The Spotlight
All About Concepts, Policies, Rules, Decisions & Requirements
We want to share some insights with you that will positively rock your world. They will absolutely change the way you think and go about your work. We would like to give you high-leverage opportunities to add value to your initiatives, and give you innovative new techniques for developing great business solutions.