Best Practices of Process Management: The Top Ten Principles (Part 2)
Summary: Years of successful and not-so-successful process management experience have led to a set of best practices -- a number of fundamental principles that must be honored in order to optimize returns to the company, the delivery of business results to customers, and to satisfy the needs of the organization
Years of successful and not-so-successful process management experience have led to a set of best practices -- a number of fundamental principles that must be honored in order to optimize returns to the company, the delivery of business results to customers, and to satisfy the needs of the organization's other stakeholders.  
In this series, I outline the ten principles that underlie the methods of business process operation and change.  In this column, I cover the second principle.
Principle 2:  Business Change Must Be Stakeholder Based
This principle asks, "Who cares about what we are doing and how well we are doing it?"
It recognizes that the organization doesn't exist only for its own purposes -- it must serve a larger community than itself.  Stakeholders provide context for the business -- its own ecosystem.
A stakeholder is anyone or any group that's affected by, has a vested interest in, or can influence the organization's performance in some way.  Types should be segmented according to their different requirements and the difference in the way that they are to be treated.
To understand each stakeholder segment, we should know the current state of our relationship with that segment and what would we want it to be in the future.  The gap between these two states will drive our needs for change.  The future state view will provide a set of evaluation criteria for change from the current reality.  The stakeholder criteria will depend on the stakeholders' actual needs, but this will be balanced with the organization's desires and intent.
References
[1]  Roger T. Burlton, "Best Practices of Process Management:   The Top Ten Principles (part 1)," Business Rules Journal, Vol. 7, No. 1 (Jan. 2006), URL:  http://www.BRCommunity.com/a2006/b269.html  
# # #

Free How-To-Primers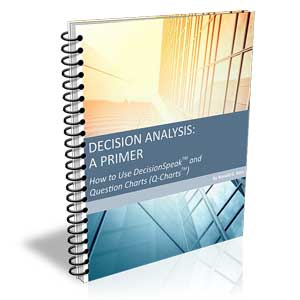 In The Spotlight
In response to a great many requests, Business Rule Solutions now offers at-a-distance learning options. No travel, no backlogs, no hassles. Same great instructors, but with schedules, content and pricing designed to meet the special needs of busy professionals.