BPM ~ From Common Sense to Common Practice (Part 2): Evolution of a Revolution
Summary: Business Process Management (BPM) as an organizational regimen is very tricky to get your head around due to its multi-disciplined nature. Depending on who you talk to, it can be positioned as many things for many purposes and that is the heart of its misunderstanding and frequent sub-optimization. In this series, Roger Burlton treats BPM's diversity and breadth as its strength when viewed from a standpoint other than that of a functional perspective or a single point of view. Last time, he challenged organizations and managers to change the way that they collectively think about business processes. In this second instalment, Roger covers the evolution of this revolution.
Last time, I challenged organizations and managers to change the way that they collectively think about business processes. Now let's take a closer look at the evolution of this revolution.
Before the Industrial Revolution
Clearly, work with an intended result has been performed since the beginning of mankind. You can call this a process, so what's really new?
Prior to the industrial revolution there were individuals and companies that delivered products and services to customers and consumers. Handcrafting of whole products was more the norm, with a strong pride in workmanship and complete personal responsibility for results across instances of processes. The provision of whole and complete services from request or initiation to result was more the case than in the recent past. Scalability was not the big issue it can be today and resources became capable through apprenticeship towards a lifetime commitment to such a craft. There were many centuries of stability and changes occurred in an evolutionary manner. Today's definition of a Business Process, as set out in Figure 1, was not far off the mark.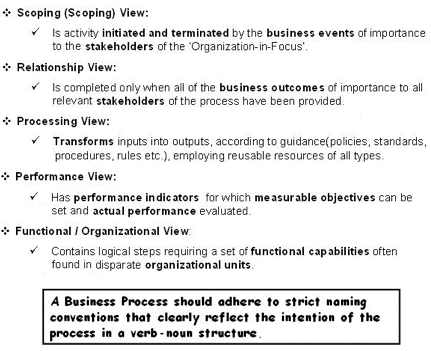 Figure 1. Business Process Definition
Consequences of the Industrial Revolution
With the advent of the Industrial Revolution, scalability requirements and the optimization of the scarce resources, such as equipment and factories, became a must to offset the high capital investments required for competitive advantage. Consequently, segmentation of work and the commoditization of the worker served to achieve the new reality. Work was still performed to produce outputs, but workers were separated from overall results visibility; they just did their small job, day-in and day-out. They were responsible for compliance in repetitive work steps and lived in a command and control workplace. Given that products and services had long life cycles and most workers had low education levels, this model was suitable for the times.
A high degree of professional management was introduced after many decades and became the norm only after more than a century of transformation — not overnight, as it may seem from our distant, backward perspective. Early in the 20th century, Frederick Taylor and others' Industrial Engineering approaches led to improvements in work steps and functions performed and to the maturing of efficiency-oriented time and resource measurement systems for physical resource optimization and cost control.
These approaches were later supplemented by the Quality Management movement, made popular by the likes of Deming, Juran, and Crosby in the mid- to latter-half of the century, when products and services were still relatively stable. The drive was on for better, faster, and cheaper ways of production. Of great importance, a breakthrough in thinking around quality occurred when its definition was recast in customer terms by these pioneers. For the first time in a long time processes were discussed in terms of how they supported the customers of the enterprise and the consumers of their offerings. This led the way for the externally-focused process improvement phase that followed next.
Business Process Re-engineering
There was great promise and hope that came when Michael Hammer coined the term 'Business Process Re-engineering' (BPR) in 1990 in recognition of what many companies had done as a natural evolution beyond Total Quality Management. That period saw a rash of new management theories emerge, which together provided a foundation for Business Process Management (BPM) today. Balanced Scorecard from Kaplan and Norton, Learning Organizations from Senge, and Enterprise Architecture from Zachman are but a few of the concepts that have come together to provide a baseline for today's integrated thinking.
However, BPR was the central tenet that exploded in popularity. It was also the reason for the near-demise of process thinking, due to its common misunderstanding and poor application as well as some dogmatic ignorance of holistic organizational and cultural issues. Despite being cross-functional, BPR tended to emphasize transformation projects at the expense of sustainable structural multi-dimensional organizational change. Post projects, organizations often reverted to silo functional management structures with no ongoing nurturing of the resulting process asset.
Due to the cost reduction orientation of this mandate, humans were typically ignored and jettisoned in many cases due to their high cost. Their knowledge was not seen as being central to ongoing sustainability, and ultimately, internal power struggles, motivated by a legacy motivation model, meant that benefits were often short lived — the solutions subverted — and many companies put themselves at risk beyond the near term. Next time we will see how some organizations began to recognize the need for integration, in a
back to the future
revival of holistic processes.
# # #

Free How-To-Primers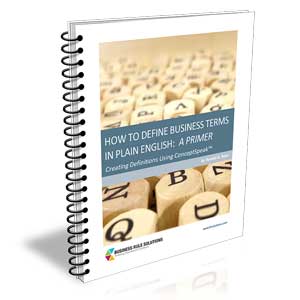 In The Spotlight
All About Concepts, Policies, Rules, Decisions & Requirements
We want to share some insights with you that will positively rock your world. They will absolutely change the way you think and go about your work. We would like to give you high-leverage opportunities to add value to your initiatives, and give you innovative new techniques for developing great business solutions.