BPM ~ From Common Sense to Common Practice (Part 5): The Internal Perspective
Summary: Business Process Management (BPM) as an organizational regimen is very tricky to get your head around due to its multi-disciplined nature. Depending on who you talk to, it can be positioned as many things for many purposes and that is the heart of its misunderstanding and frequent sub-optimization. In this series, Roger Burlton treats BPM's diversity and breadth as its strength when viewed from a standpoint other than that of a functional perspective or a single point of view. He proposes that, handled well, BPM should be no more that the application of common sense to logical business problems and opportunities. In this fifth instalment, Roger covers the 'internal perspective' of the new common sense.
Last time, we examined the external perspective of the new 'common sense'. In this instalment of the series we will take a look at what the internal perspective entails.
The InternalPerspective
The challenge of the process-managed enterprise is to remain focused and capable to achieve the expectations of, and the intentions towards, the external environment that you have selected for yourself. This is the second tier of the new common sense.
Now we have to identify, design, develop, implement, and continuously manage new internal capabilities that are in synch with our ever-changing external criteria.
Attributes of such enterprises include:
Clear responsibility for external relationship management and performance. (Relationship Custodians)


Common definition of what are our start-to-end processes. (Overall Process Map)


Clear identification of which external stakeholders are involved with or affected by each process. (Who cares?)


Common understanding of what stakeholders expect and what we intend for them for each process. (What do we want them to care about?)


Understanding of what we exchange with them in this process and what triggers such exchanges?


An organizational structure which supports process management as well as functional expertise.


Clear responsibility for all whole business processes that support the stakeholder relationships. (Process Stewards)


Processes built for the enterprise itself to look outward and deliver better intelligence for internal guidance and governance.


Processes that establish and communicate business strategy effectively.


Processes that consider the various stages in the lifecycle of all stakeholder relationships.


An effective measurement and diagnostic system built for near real time evaluation and decision-making based on stakeholder and process performance.


Information systems built to support full closed loop process execution from first trigger to last outcome of a stakeholder-initiated process. (Business Process Management Systems, or BPMS)


Clarity on what has to change in each process and by when.


Capabilities (technological, human and physical asset) aligned with and managed by whole business processes.


A set of business principles that support holistic thinking.


Aligned incentives for all internal human resources and organizations to assure motivation to deliver against the outside requirements.
Once again I would contend that, if you had just arrived on the planet from another galaxy, this is what you would expect to see if you thought that the human race cared enough about, and was capable of, doing the right things right. Next time, I will address the issue of what we can do to realize the type of organization described so far.
# # #

Free White Papers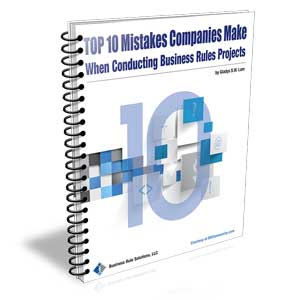 In The Spotlight
All About Concepts, Policies, Rules, Decisions & Requirements
We want to share some insights with you that will positively rock your world. They will absolutely change the way you think and go about your work. We would like to give you high-leverage opportunities to add value to your initiatives, and give you innovative new techniques for developing great business solutions.