BPM ~ From Common Sense to Common Practice (Part 6): BPM as Common Practice
Summary: Business Process Management (BPM) as an organizational regimen is very tricky to get your head around due to its multi-disciplined nature. Depending on who you talk to, it can be positioned as many things for many purposes and that is the heart of its misunderstanding and frequent sub-optimization. In this series, Roger Burlton treats BPM's diversity and breadth as its strength when viewed from a standpoint other than that of a functional perspective or a single point of view. He proposes that, handled well, BPM should be no more that the application of common sense to logical business problems and opportunities. In this sixth instalment, Roger addresses the issue of what we can do to realize the type of organization described so far.
Previously, we examined both the external and internal perspectives of the new 'common sense'. Continuing in the spirit of common sense, I will now address the issue of what we can do to realize the type of organization described so far. I will describe a logical structured method for working in a process-oriented enterprise.
Principles supporting 'Common Sense'
I am a great believer in principles to guide design, action, and decision-making. No set of rules and procedures will ever be able to articulate every situation and nuance of possible action in a business process. You need something to fall back upon in reading a situation and doing what makes sense.
The approach will follow some tried and true fundamentals that will guide you in circumstances where documented methods are insufficient and when you need to adjust from the exact documented steps. Some of the critical principles are as follows.
"Start with the end in mind"
When running an instance of a process or designing one, the Stephen Covey advice is paramount. If it is not crystal clear to everyone what constitutes later success — when the process is over and when everything has been done to add value to that vision — you are sunk. The process results will be inconsistent, the stakeholders will be disappointed, and the process will come under attack — both for the process execution and for its transformation. The simple message is that a clear and shared vision is required when you start. Do not leave home without it.
"Performance-driven"
Every process, in order to be manageable, must be measurable and driven towards the attainment of agreed performance objectives. Finding performance metrics and setting targets is not so hard. Finding the right ones is very hard. As Norton and Kaplan of Balanced Scorecard fame have reported, 'What you measure is what you get' so you'd better be sure that it is aligned with your (and your stakeholders') process performance expectations. Performance attainment must become the basis for design, operational feedback, assessment, and improvement of processes, to cut through perceptions, resistance, and internal politics. Without it, behavior will not change and the right results will not accrue.
"Stakeholder-driven"
Consistent with the prior two principles is the requirement for the absolute passionate commitment to, and unwavering focus on, the stakeholders of the process and their requirements. They are the only reason the process exists. Some will be active participants and others will be keenly interested and ultimately affected by what happens. The criteria for process performance must start and end with both their and your needs and desires. Trying to design and conduct processes without these perspectives (which serve as paramount design criteria) is delusional and, at best, sub-optimal.
"Criteria before decisions"
The root cause of most poor decisions in any business scenario and within all processes is that there is a lack of consistent criteria to guide action. Often decisions are made based on personal biases that vary based on the individual's experience, position, or difference of opinion. Without shared and clear decision-making reference points that are carefully pre-considered, documented, and communicated — available to the decision makers — decisions will be inconsistent, easily challenged, and not supported. Early steps must be built in to every process, to get acceptance of criteria to be applied in later ones.
"First things first"
Another Covey principle that must be strongly considered is the one that states that you have to start somewhere and that you may as well do what makes sense and sets the process off in the right direction. Failure to do this will undoubtedly result in errors, delays, rework, and downstream customer dissatisfaction. As mentioned before, the biggest cause of lack of process performance is what you did or did not do earlier in the process. So, after thoughtful design, trust the process and do all the steps — do not skip conducting good planning and preparation work or it will cost you later. When designing processes make sure your methodology has adequate consideration for whole process design, not just the visible part at the end.
"Next things next"
Even if you get off on the right foot, either an irrational misdirected rush to get all changes implemented at once often takes over, or the organizational power plays take off and blind all other logical considerations. The consequences can be devastating since the enterprise must live with them every day post transformation. The sequence is simple: define who cares and what they care about, then products and service interactions, then define what gets done, then how it gets done, then the rules that govern the work, then the capabilities required in terms of technologies and human competencies, then where work will be done, and then the organizational model required to do so. Throughout each of these, the human change communication and transformation must be managed. The mixing-up of this sequence is a major factor in the design and implementation dysfunction seen in business processes and the inappropriate set of technologies and other capabilities that are not aligned to process requirements and stakeholder needs and ultimately business performance. In brief:
Design stakeholder relationships before processes.
Design processes before technological capabilities.
Design processes before human competencies.
Design processes and human competencies before organizations.
Design and execute the stakeholder communication program continuously.
Next time, I will wrap up this series by outlining some of the methodology fundamentals of BPM.
---
# # #

Publications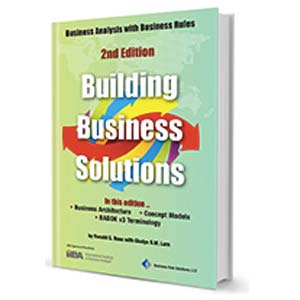 In The Spotlight
All About Concepts, Policies, Rules, Decisions & Requirements
We want to share some insights with you that will positively rock your world. They will absolutely change the way you think and go about your work. We would like to give you high-leverage opportunities to add value to your initiatives, and give you innovative new techniques for developing great business solutions.