BPM ~ From Common Sense to Common Practice (Part 7): BPM Methodology Fundamentals
Summary: Business Process Management (BPM) as an organizational regimen is very tricky to get your head around due to its multi-disciplined nature. Depending on who you talk to, it can be positioned as many things for many purposes and that is the heart of its misunderstanding and frequent sub-optimization. In this series, Roger Burlton treats BPM's diversity and breadth as its strength when viewed from a standpoint other than that of a functional perspective or a single point of view. He proposes that, handled well, BPM should be no more that the application of common sense to logical business problems and opportunities. In this concluding instalment, Roger covers some of the methodology fundamentals of BPM.
In order to realize the intent of the principles of Business Process Management (BPM), significant architecture, analysis, and design work must occur, consistent with the principles outlined earlier in this series. Every component must contribute towards the establishment of a process-organized capability to deliver business performance and its improvement. The following Table describes the requirements of a methodology in terms of what we need to know, in what order, the tools needed to capture it, and the way it contributes to business performance.
What Do We need to Know?

What Management Tool will we use?

How will it Contribute to Business Performance

What Organization are we optimizing?

"Organization-in-Focus" Scope Model

Business Definition

What are the external pressures and drivers that the organization must deal with?

Driver and Market Analysis

Business's Market

Performance Assessment

What does the organization want to become and by when?

Business Strategic Intent Documentation

Strategic Objectives

What are the external stakeholders for the organization?

Stakeholder Map — Role Hierarchy

Stakeholder Relationship KPIs & Performance Objectives

What products and services do we exchange with our stakeholders?

Stakeholder Exchange / Interaction Map

Product and Service KPIs & Performance Objectives

What other items do we exchange with them?

Stakeholder Exchange / Interaction Map

Product and Service & Stakeholder Relationship KPIs & Performance Objectives

What must we do as an organization to meet our stakeholder intentions?

Process Architecture Map — levels 1 and 2

Aligned Process Goals, KPIs and Performance Objectives

How should we organize best to meet our process requirements?

Process Stewardship Map and Organization Chart

Process Organization KPIs & Performance Objectives

What technology resources must we have in place in order to perform what we must do?

Enterprise Technology Architecture Models

Technology Capability Goals and Performance Objectives

What human skills and competencies do we need in order to perform what we must do?

Human Competencies Map

HR Goals and Performance Objectives

How should we allocate our investment resources to achieve maximum performance?

Transformation Program Plan

Transformation Goals, KPIs, & Program Performance Objectives

What is the actual performance of the 'Organization-in Focus'

Performance Monitoring Results

Actual Measures against above Objectives
The Table shows that there is a lot to know if you want to truly improve business performance through the organizing effect of business processes. It also shows that there are multiple models, or maps, that are required, showing different aspects of the 'Organization in Focus'.
Like maps of a country that show political regions, precipitation, temperature, or population, these performance-oriented maps are related and all are important. They answer the questions posed by different perspectives. They must be aligned by the process perspective in order to build the full performance management capability that is required for process managers to manage processes and outcomes.
The Process Methodology for process management that has been described in this series is designed to organize and integrate all of the requirements into a repeatable approach that can be trusted to deliver. The methodology shown in Figure 1 (as introduced in Part 3 of this series) attempts to honor these principles and structure, while dealing with the multiple perspectives required.
Figure 1. Process Renewal Framework
In Conclusion
In this series I have attempted to show that, despite the fact that processes have been with us forever, we have a long way to go. The opportunity to exploit them, however, is still with us since many organizations are still largely dysfunctional when it comes to seamlessly doing the work required connecting to and from the outside stakeholder world. Their processes are not designed and managed holistically. Their methodologies are short sighted and partial. Many do not know what they do not know when embarking on a process venture. This series has provided the
common sense
for effective process management and a start for the establishment of some common practices to allow repeatable success in your enterprise.
# # #

Free How-To-Primers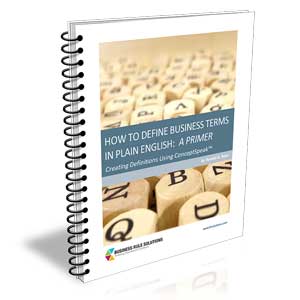 In The Spotlight
All About Concepts, Policies, Rules, Decisions & Requirements
We want to share some insights with you that will positively rock your world. They will absolutely change the way you think and go about your work. We would like to give you high-leverage opportunities to add value to your initiatives, and give you innovative new techniques for developing great business solutions.